Ball (George)
BALL (GEORGE) CEMETERY
Cabell County, West Virginia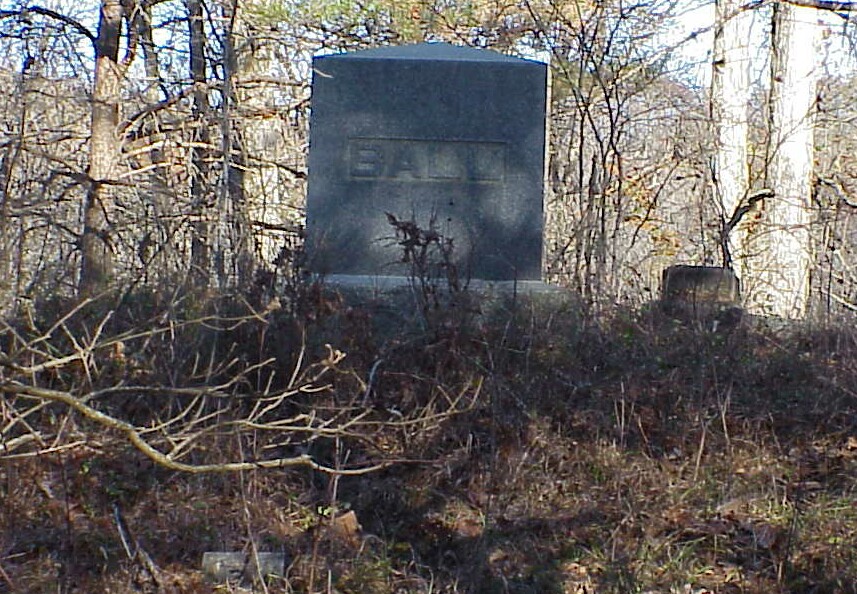 ---
Ball (George) Detail List
Latitude: N 38° 26.146
Longitude: W 082° 05.787
Elevation: 700 feet
Accuracy: 23 feet
---
From Milton take US Route 60 East to Kilgore Creek Road. Milton City Hall will be on the right across from the entrance to Kilgore Ck. Turn left onto Kilgore Ck. and go 0.7 miles. At the top of the hill park on the Right hand side of the road and walk to the highest point of the hill on your Right (right hand side of the road). The cemetery is overgrown and in bad shape. Most of the markers have been knock over and are lying on the ground.
Read November 5, 2004.
Submitted by Barry Huffstutler
& Candie Freeman
---
Note: This is a Large Headstone that serves as the Headstone for
several graves.
____________________
____________________
GEORGE W. BALL
1858 — 1919
____________________
---
Note: The next 2 names are on different sides of the stone and the
stone has a verse on it.
HATTIE
ETHEL
BALL
DIED
JULY 9,
1894
AGE
1Y. 5M. 10D
BALL
Footstone: "S. I. B."
____________________
SARAH
ISABELL
BALL
DIED
JULY 13,
1908
AGE
40Y. 4M.
Footstone: "H. E. B."
Note: The verse on the stone is.
In my Father's house
are many mansions.
---
LUE ELLEN BURGER
JUNE 10, 1874
FEB. 9, 1909
BURGER
Footstone: "L. E. B."
Note: The Burger lot has 4 corner markers with "P. B." on them.
There are also 5 footstones on the lot. They are above the marker
for Lue Ellen Burger and just below the large headstone for the Ball.
Footstones:
"E. B." -- "C. B." -- "E. B." -- "E. B." -- "INFANT"
Possible names for these markers:
1. Emmett Burger -- (1900 -- 1904)
2. Clyde Burger -- (02-17-1908 -- 03-27-1909)
3. Ernest Burger -- (11-19-1905 -- 06-20-1906)
4. Everett Elmer Burger -- (02-1912 -- 09-1918)
** Child of Peter Hansford & 2nd. wife Annie Burger **
5. Infant Girl Burger -- (1909 -- 1909)
Information from Barbara Hall
---
GLADYS MAE CART
1907 —— 1930
---
MARY JANE CART
1876 —— 1923
---
CHARLES W.
SMITH
SEPT. 11, 1841
JAN. 26, 1908
---
There are several graves that are marked with Field Stones only and there are several sunken graves that are not marked at all.
There is also 1 marker that can't be read.