Sam Beckett
SAM BECKETT CEMETERY
Cabell County, West Virginia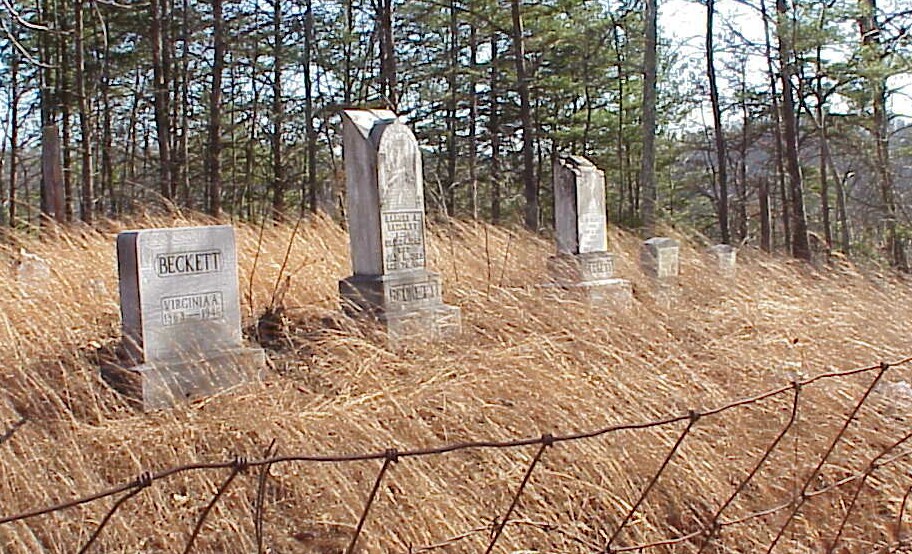 ---
Beckett (Sam) Detail List
Latitude: N 38° 22.654
Longitude: W 082° 11.235
Elevation: 937 feet
Accuracy: 15 feet
---
From US Route 60 in Ona, Cabell County, West Virginia take Fudges Creek Road for about 4.9 miles. Last house on the Right before you come to Susanna Baptist Church. The cemetery is located on private property of a Mr. Markins. The cemetery is on the top of the hill behind his barn. The cemetery has a fence around it and is clean at least once a year.
Submitted by Barry Huffstutler
Read July 30, 2004
---
AT REST
CLEM BECKETT
BORN
NOV. 18, 1886
DIED
JAN. 8, 1920
AGE 33 YEARS
BECKETT
---
LEMUEL C. BECKETT
JAN. 1, 1887
APRIL 21, 1937
Burial Date: (04-23-1937) Age: 50
HECK FUNERAL HOME
---
AT REST
SAMUEL L.
BECKETT
BORN
DEC. 24, 1853
DIED
JAN. 8, 1929
AGE 75 YRS
BECKETT
---
BECKETT
VIRGINIA A.
1863 —— 1946
Virginia parents name was "Chapman"
Dates: (Born: 04-29-1863 -- Died: 05-31-1946 -- Buried: 06-02-1964) Age: 83
Born in Cabell Co., WV and Died in Ona, WV
HECK FUNERAL HOME
---
MINNIE MAE
CARTER
MAR. 10, 1884
SEPT. 17, 1956
---
WALTER THOMAS
CARTER
DEC. 13, 1889
MAR. 21, 1963
---
OUR DARLING
JANET LYNN
MARKINS
FEB. 10, 1948
DEC. 30, 1950
---
Other Possible Burials in the Cemetery: (Information From Carrie Eldridge Cemetery's Books of Cabell County, WV)
1. Beckett, Oscar Dale (1935 -- 1938)