Clay (Jim) Cemetery
JIM CLAY CEMETERY
Cabell County, West Virginia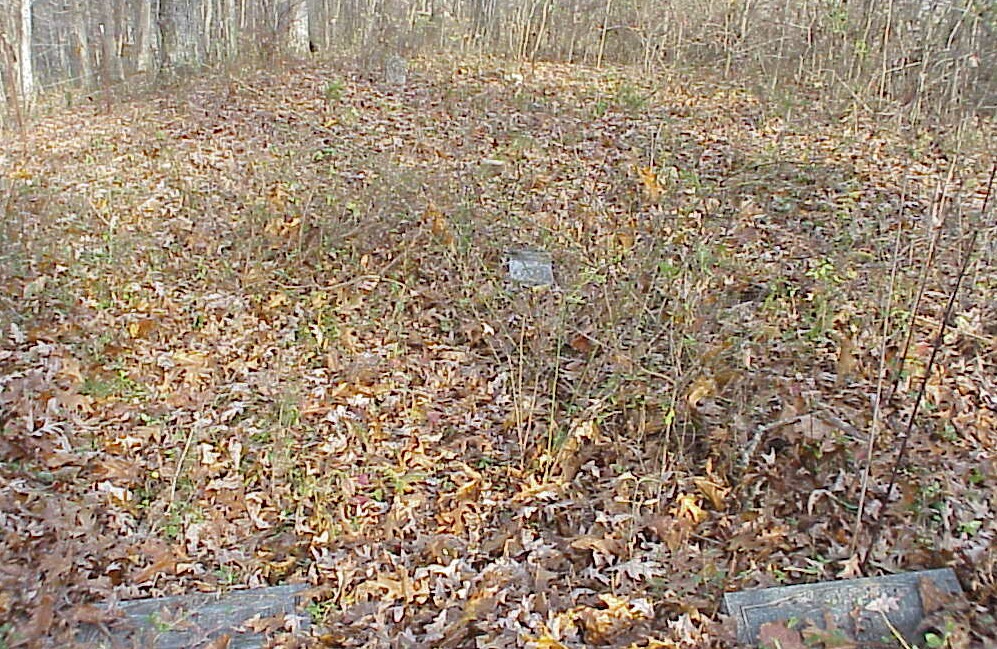 ---
Clay (Jim) Detail List
Latitude: N 38° 17.297
Longitude: W 082° 17.268
Elevation: 780 feet
Accuracy: 20 feet
---
From Barboursville take Alt. 10 and Rt.10 till you come to Upper Heath Creek Rd. (7.6 miles). Turn Right onto this road and go to the crossroads (3.1 miles). Turn Left onto this road and go to the next crossroads (0.8miles). Do not turn at this road. Keep going straight up this road (Bowen Cr. Rd.) Go 1.2 mile. You will come to a gate on your Right. Go through this gate and cross the creek and go up to the barn. The Cemetery is up the hill to the Right of the barn. It is on the 3rd. flat (Bench) on the hill. You will have to climb the hill to the Cemetery. It is best to take the old road behind the barn to the Cemetery. The Cemetery is fenced but is overgrown with brush.
---
James Clay / Wesley Cremeans Family Cemetery
Bowen Creek Road on the hill directly behind the former Carmell Adkins residence
On October 30 2006 Barry Huffstutler and Ed Prichard visited this cemetery and the following was observed:
The cemetery is wedge shaped with an average of 4-5 graves to a row surrounded by barbwire. There were 44 + recognizable graves, most marked with fieldstones.
Legible markers of James Clay, Wesley Cremeans, Mahala Cremeans, Arminty Debar, Hirum Cremeans and Maud Adkins
The James Clay or "Jim Clay" Cemetery is located on a hillside overlooking Bowen Creek Road in Cabell Co WV. It is also the family cemetery of Wesley and Mahalia Frances Jefferson Cremeans. The Clay and Cremeans homesteads were located on opposite sides of Bowen Creek Road. It is known as the "Jim Clay" because at one time his was the oldest legible marker in the cemetery. James Clay was born in 1843 ( wife Cintha, b 1836)) and had one son, Burton born in 1870. This is according to the 1880 Cabell County Census of the McComas District. Several Cremeans children are proven or suspected of being buried in this cemetery. The 1934 Cabell Co death certificate for Typhus Cremeans lists his burial place a Bowen. This may be the Jim Clay / Wesley Cremeans Family Cemetery on Bowen Creek, Cabell Co WV. Prichard family history states the Mary Elizabeth Cremeans Prichard, "Ella", d/o Wesley and Mahalia was buried in the Jim Clay Cemetery with her two dead paternal twins, Golden and Goldie, between her legs.
James Clay and Wesley Cremeans Sr. were found on the same page of the 1880 Cabell Co, McComas Dist. Census!!! (page 127a)
---
MAUD
ADKINS
JAN. 12, 1890
MAR. 14, 1918
Asleep in Jesus
Footstone: "M.A."
Location: 2nd. Row - 3rd. Grave
Maud Prichard Adkins, was born January 12 1890. She was the first child of William Prichard and Mary "Ella" Cremeans. She was the wife of Lloyd Adkins, son of Andrew G. Adkins and Alafair. Lloyd lived on Hickory Ridge and Maud lived on Stringtown Hollow which heads on Hickory Ridge. Maud died March 14 1918 and was buried in her mother's family cemetery, The Jim Clay Cemetery.
Source: Ed Prichard
---
In my Father's house
are many mansions
JAMES
CLAY
1841 --
-- 1916
—————
Footstone: "J.C."
Location: 3rd. Row - 5th. Grave
---
Note: This grave is marked with a Medal Marker only.
CHAPMAN MORTUARY
Hiram or Hirum Nickname was "Sonny"
Son of William Cremeans & Brother to Wesley Cremeans.
Location: 5th. Row - 5th. Grave
---
MAHALIA CREMEANS
1845
JUNE 29, 1945
Location: 1st. Row - 2nd. Grave
---
WESLEY CREMEANS
1843
AUG. 13, 1922
Location: 1st. Row - 3rd. Grave
---
ARMINTY DeBAR
BORN • JANUARY
THE • 18 • 1837
ARMINTY • DIED
NOVEMBER • 18
1902
Note: This stone is old and very hard to read.
Location: 5th. Row - 1st. Grave
Note: From the Cabell Co. Death Records
Arminta DeBoy -- Born: 1837 -- Died: Nov. 18, 1908
Husband was John A. DeBoy
d/o Hirum -- which was s/o Burton
---
Other Possible Burials:
(Source: Cabell Cemeteries Books by Carrie Eldridge)
Clay, Burton G. (mar 1870 - 17 Aug 1897)
Prichard, Mary Elizabeth Cremeans (1868 - 1902
Prichard, Golden & Goldie (Inf. Twins 1902)
Cremeans, Hiram (Died 1865 Civil War)
Unmarked Graves (Rocks)
Cremeans, Minnie Booth (02-27-1884 -- 11-27-1947)
Buried: 11-29-1947 Age: 63
Born in Lincoln Co., WV and Died in Huntington, WV
Husband: William Cremeans
Parents: A. Booth & Emma Hicks
HECK FUNERAL HOME Records &
Cabell Co. WV Death Certificate
Cremeans, Typhus (Type) -- (Aug. 1878 -- 06-24-1934)
s/o Wesley & Mahalia (Jefferson) Cremeans
Cabell Co. WV Death Certificate
Cremeans, Joseph -- (Died Jan. 18 1922 -- Age:74)
Cabell Co. WV Death Certificate
Cremeans, Glen -- s/o Hirum "Sonny" Cremeans
Buried at the foot of "Sonny" grave.
Killed in a car accident.
Info. from Fae Cremeans/Bartrum
Note: There is a old rusty metal marker at the about location
that is believed to be "Glen" marker.
Note: The below info was sent in by Ed Prichard
I believe that Arminta DeBar was Minta Cremeans B 1837
(1860 Wayne Co WV Census) and sister to
Wesley Cremeans. Hirum "Sonny" Cremeans is nephew to
Wesley Cremeans (also burried in Jim Clay).
Joseph, (also burried in Jim Clay), was f/o Hirum Geter Cremeans,
h/o Kate Cremeans, d/o Wesley!!
All this is substantiated with the census.