Dillon Cemetery
DILLON CEMETERY
Cabell County, West Virginia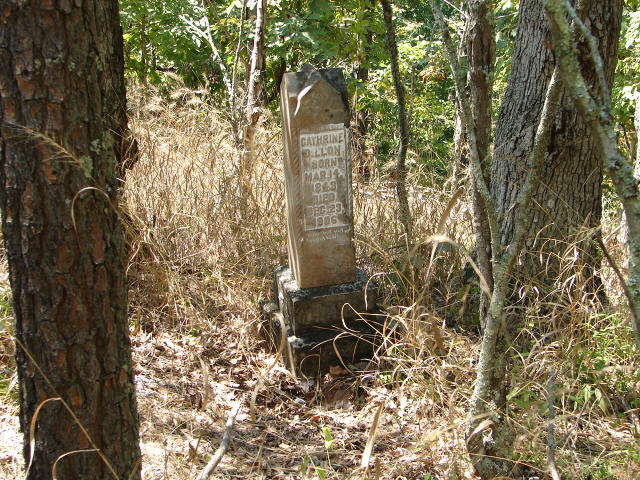 ---
Latitude: N 38° 22. 2
Longitude: W 082° 19. 34
---
From US 60 in Cabell County take Alt. 10 to Rt.10. Turn Left onto Rt. 10 and go about 1/2 mile to you come to Paugh Rd. on the Left side. Turn up this road and go about .02 mile or till you come to a gate (gate will be open). After you go through the old gate then park on your Left side of the road. On the Right side of the road is a old haul road that goes around the hill. Go about 50 yard on this road and then go straight up the hill to the top. The Cemetery is on top of the hill. It is not fenced and only has one (1) marker in it.
Read August 29, 2012
by Barry Huffstutler & Ed Prichard
Submitted by Barry Huffstutler.
---
CATHRINE
DILLON
BORN
MAR. 14,
1843
DIED
DEC. 23,
1906
Gone but not
forgotten
Footstone: "MOTHER"
[ Headstone ]
----------------------------------
B. F. DILLON
BORN
JUNE 4,
1833
DIED
Note: Death date is missing is not on marker.
His death date was Sept. 21, 1924.
Note: His name was "Benjamin Franklin Dillon "Bob"
Footstone: "FATHER"
[ Headstone ]
---
Other Burials: (Source: Rusty Dillon)
1. Davidson, Baby -- No dates
2. Paugh, Cline (twin) -- (06-29-1899 - 12-22-1899)
3. Paugh, Clyde (twin) -- (06-29-1899 - 12-22-1899)
Note: Cline & Clyde Paugh were grandsons of Benjamin Franklin and Catherine (McCorkle) Dillon. They were the sons of Manford H. Paugh and Nannie Belle Dillon.
4. The Old Stranger -- No dates

The Old Stranger was a man found dead
at the school near what is now the
intersection of Sixteenth Street Road
and Interstate 64. No one was reported
missing or claimed the body so they had
a funeral for him and buried him in the
family cemetery.