Dolen Cemetery
DOLEN CEMETERY
Cabell County, West Virginia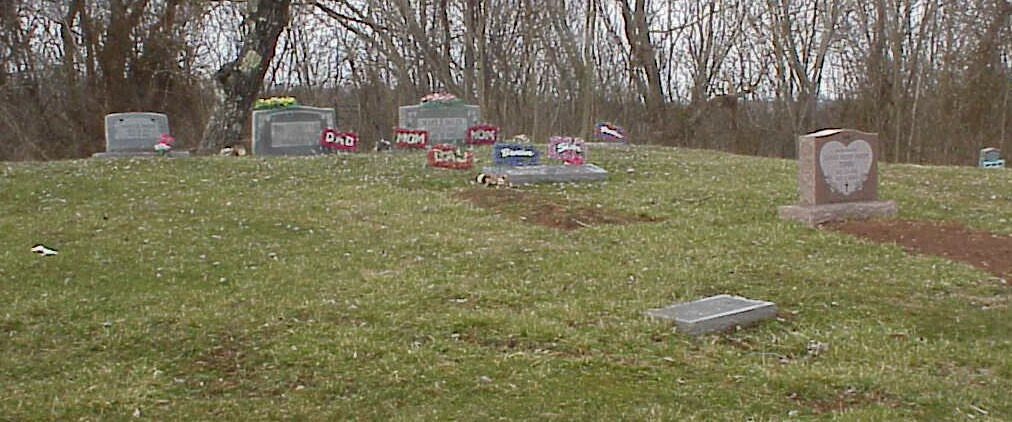 ---
Dolen Detail List
Latitude: N 38° 23.740
Longitude: W 082° 21.618
Elevation: 764 feet
Accuracy: 18 feet
---
From U.S. Route 60 in Huntington, WV, turn toward Eastern Heights Shopping Center. Cross Norway Avenue which now becomes Bonnie Blvd. then it turns into Cedar Crest Drive. Take Cedar Crest Drive until you come to a mobile home community called Majestic Park (on the Left hand Side of Road). Turn into this community and go up the hill and turn Left at the first street you come to. This street will dead end into a small gravel road. At the end of this road is the cemetery. It is not fenced but look's to be maintained at some time of the year.
The following list was compiled by actual reading of the tombstones.
All the information, excluding annotation, is written on the tombstone.
Submitted by Barry Huffstutler.
Read February 17, 2005.
---
HARVEY DALE
CRABTREE
SEPT. 1964
OCT. 1964
---
"DAVIE"
OUR BABY ANGEL
DAVID DOLEN JR.
OCT. 30, 1975
DEC. 6, 1981
I pray Thee Lord my soul to keep
---
DOLEN
HAROLD L.
EMBRACED
BEULAH J.
MAR. 28, 1926
BY GOD
OCT. 23, 1926
SEPT. 2, 1993
---
JAMES H. DOLEN
JAN. 28, 1915
OCT. 5, 1966
---
L. B. DOLEN, JR.
NOV. 9, 1927
DEC. 17, 1987
Leonard Basil Dolen (Jr.)
Buried: 12-21-1987 Age: 60
Born in Cabell Co., WV and Died in Inverness, FL
Parents: Leonard Basil Dolen & Mary Esther Nida
BEARD MORTUARY
---------------------
Note: The Florida Certificate of Death has his Birth Date
as 11-25-1927 and has his mother last name as "Nidie"
[ Headstone ]
---
REV. L. B. DOLEN
FEB. 11, 1901
AUG. 25, 1958
---
MARY E. DOLEN
APRIL 1, 1908
JAN. 21, 1983
---
SAMUEL CLETIS DOLEN
1931
2003
HALL FUNERAL HOME
Note: This grave is marked with a Medal Marker only.
Location: to the Left hand side of the marker for "Terry Lee Dolen, II"
HALL FUNERAL HOME
---
TERRY LEE DOLEN, II
MAY 15, 1983
MAY 16, 1983
HEAVEN SWEET ROSE
---
GILBERT JENKINS
JULY 13, 1892
JAN. 31, 1978
---
"MEME"
BLESSED MOTHER
SARAH ELLEN DOLEN
TERRY
OCT. 26, 1941
AUG. 6, 2004
†
I'VE FOUGHT A GOOD FIGHT, I'VE KEPT THE FAITH
Note: Also has a Medal Marker from
WALLACE FUNERAL HOME