Everett Cemetery
EVERETT CEMETERY
(County Home Cemetery)
Cabell County, West Virginia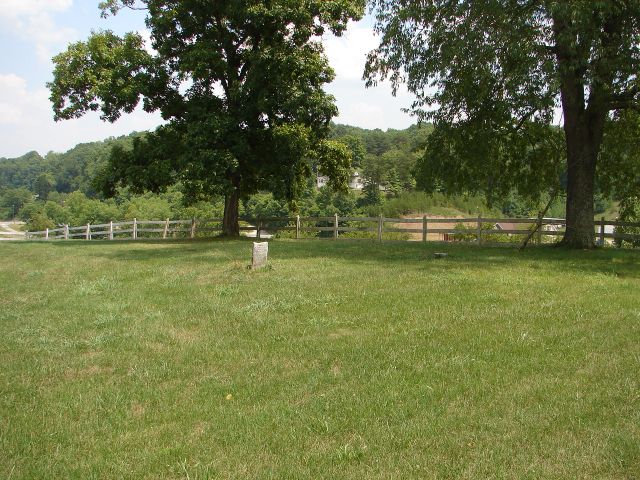 ---
Everett Detail List
Latitude: N 38° 25. 559
Longitude: W 082° 12. 772
Elevation: 639 feet
Accuracy: 15 feet
---
From US 60 in Cabell County, WV at Ona, WV turn onto Howells Mill Road. Go to the top of the hill and turn into the road that goes up to the Sheriff Field Office (Big Building on the Right at the top of hill). Take the walking path down the hill to the cemetery. The cemetery has a white wooden fence around it and is keep clean.
At this time there are only 6 markers that are still in the cemetery that can be found and some of them are in very bad shape (broken and very weathered).
Heck Funeral Home Records shows that there are 50 more burials in the cemetery. They range from 1932 to 1955. (Names at bottom of page)
Read July 17, 2007
by Barry Huffstutler & George Swann.
Submitted by Barry Huffstutler.
---
EARNEST R. BLACK
JUNE 1923
AUG. 1924
[ Headstone ]
---
HUBERT H. BLACK
AUG. 1911
NOV. 1911
[ Headstone ]
---
†
JOHN EVERETT
VIRGINIA
PVT 1 VA REGT
REVOLUTIONARY WAR
FEB 28 1753
FEB 13 1845
[ Headstone ]
---
SAMUEL EVERETT MOORE
SON OF
M. C. & S. M. MOORE
BORN
April 3, 1845
DIED
July 1, 1853
────
Note: This marker has a verse but is weathered so bad that it can't be read.
Also the top part of the marker is gone.
[ Headstone ]
---
SARAH EVERETT
Wife of
MARTIN C. MOORE
BORN
Feb. 18, 1827
DIED
Mar. 10, 1854
────
Draw near kind friends of my youth
(can't read) must surely die
blessed with health (can't read)
(can't read)
Note: Marker is broken into 5 pieces.
[ Headstone ]
---
JAS. TURLEY
1754 ── 1838
PVT. REV. WAR
WIFE, ESTHER
1754 ── 1824
[ Headstone ]
---
Other Possible Burials:
(Source Heck Funeral Home Records)
Name Death Date Burial Date Age
1. Auxier, Burl 05-31-1932 -- 06-01-1932 74
2. Barnett, Beverley D. 12-02-1932 -- 12-03-1932 54
3. Davis, Dennis 10-14-1932 -- 10-15-1932 71
4. Estep, Mary Jane 12-06-1932 -- 12-07-1932 66
5. Spurlock, Octavo 12-21-1932 -- 12-22-1932 100
Name Death Date Burial Date Age
1. Flowers, Alonzo 06-17-1933 06-18-1933 85
2. Pfau, Eugene 07-20-1933 07-21-1933 64
3. Richardson, David 10-22-1933 10-23-1933 40
4. Rowsey, Charles H. 09-13-1933 09-16-1933 80
5. Snoddy, Mary 12-08-1933 12-09-1933 78
Name Death Date Burial Date Age
1. Barrows, Russell B. 08-31-1934 09-02-1934 43
2. Davidson, Dolly 04-21-1934 04-23-1932 --
3. Davis, Alice 07-23-1934 07-24-1934 57
4. Johnson, E. L. 04-04-1934 04-06-1934 74
5. King, John 06-12-1934 06-13-1934 75
6. McComas, Charley 03-20-1934 03-21-1934 74
7. Neal, Willard 02-04-1934 02-06-1934 57
8. Seibert, Frank 06-28-1934 06-30-1934 65
Name Death Date Burial Date Age
1. Smith, R. B. 07-03-1935 07-05-1935 72
2. Warnet, Thomas M. 11-10-1935 --------- 53
Name Death Date Burial Date Age
1. Dick, Olive 04-02-1936 04-03-1936 70
2. McClary, Elizabeth 05-11-1936 05-12-1936 67
Name Death Date Burial Date Age
1. Jenkins, Dan L. 01-14-1937 01-15-1937 69
2. Urban, Paul 02-25-1937 Abt. 60
Name Death Date Burial Date Age
1. Albright, Lewis 01-10-1940 01-11-1940 Abt. 45
2. Brumfield, Humphry 10-05-1940 10-07-1940 85
3. Drake, Laura F. 11-07-1940 11-09-1940 Abt. 78
4. Earl, Prentiss 09-06-1940 09-09-1940 56
5. Lynch, Harvey M. 08-28-1940 08-31-1940 70
6. Maxwell, William 02-10-1940 1940 73
Name Death Date Burial Date Age
1. Harris, Lee 01-31-1941 02-01-1941 67
Name Death Date Burial Date Age
1. Bias, Thomas 09-04-1942 09-06-1942 60
Name Death Date Burial Date Age
1. Stanley, Maud 12-30-1942 01-01-1943 75
Name Death Date Burial Date Age
1. Blake, Fannie Frances 02-20-1944 02-23-1944 51
2. McDonald, Ray 12-28-1944 12-31-1944 60
3. Roberston, James 03-18-1944 03-21-1944 68
4. Yoho, David 03-27-1944 78
Name Death Date Burial Date Age
1. Bragg, Cleveland 03-20-1945 03-23-1945 60
2. Lambert, Isabelle Aurora Sep. 1945 09-25-1945 86
Name Death Date Burial Date Age
1. Spurlock, Walter 07-21-1946 07-24-1946 66
Name Death Date Burial Date Age
1. Adkins, Nathanial 06-22-1948 06-25-1948 Abt. 81
Name Death Date Burial Date Age
1. Estep, Martin 03-05-1949 03-08-1949 58
2. Hutchinson, Delbert 11-17-1949 11-18-1949 89
3. Long, Hezakih 08-22-1949 08-25-1949 88
4. Reed, John 11-15-1949 11-17-1949 88
Name Death Date Burial Date Age
1. Harmon, Joseph 11-22-1950 11-28-1950 70
2. Rudolph, Fred 08-26-1950 08-29-1950 62
Name Death Date Burial Date Age
1. Henderson, Matt 05-17-1951 05-19-1951 Abt. 73
Name Death Date Burial Date Age
1. Hedrick, Dollie F. 09-30-1952 10-03-1952 79
Name Death Date Burial Date Age
1. Crabtree, George W. 01-31-1955 02-02-1955 61