Ferguson Cemetery
FERGUSON CEMETERY
(Also known as Roach Cemetery)
Cabell County, West Virginia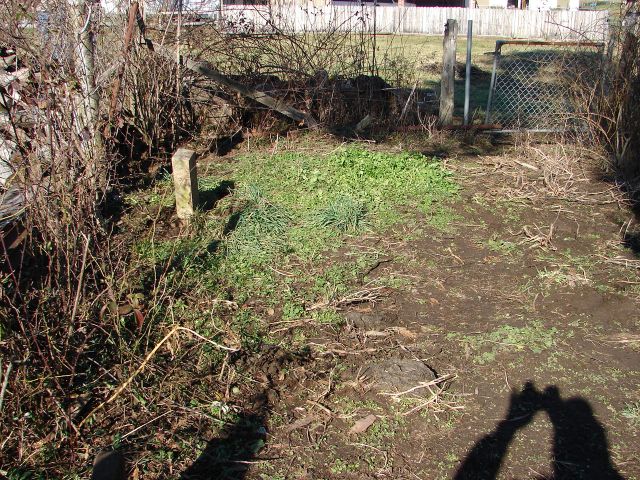 ---
Latitude: N 38° 21. 647
Longitude: W 082° 13. 358
Elevation: 576 feet
Accuracy: 23 feet
---
From Barboursville, Cabell County, West Virginia take US Route 60 East to Cyrus Creek Road. Turn Right and go 3.3 miles to McComas Road and turn Left. Take McComas Road until you come to Cavill Creek Road. Turn Left across the Railroad Tracks and then turn Right and go to the last house on this road. The Cemetery is in the pasture field in front of you.
The Cemetery has been abandoned and is in very poor condition. It has a old fence around it but is in poor condition also.
Submitted by Barry Huffstutler.
Read December 31, 2007
By Barry Huffstutler - Ed Prichard - George Swann - Ben Swann
Updated: February 19, 2008
---
MARY E.
FERGUSON
JAN. 29, 1877
OCT. 22, 1950
Footstone: (brick)
Buried: 10-24-1950 Age: 73
Born in Wayne Co., WV and Died in Huntington, WV
Parents: Charles Paine & Cynthia Jordan
BEARD MORTUARY
Source: Source: WV Archives
[ Headstone ]
---
R. G. FERGUSON
BORN
JULY 17, 1899
DIED
SEP. 20, 1900
Footstone: "R.G.F."
R. G. first name was "Russell"
Source: Source: WV Archives
[ Headstone ]
---
Unmarked Grave: Mollie Ferguson
1. Mollie Ferguson
2. Sterling Supplee Hatfield
Born: 04-05-1907
Died: 05-23-1907
Parents: Theodore Franklin Hatfield
Carrie Ferguson
Source: Collection of Wilma (Venoy), Deceased.
Note: There were 2 graves marked with Headstones.
There were 2 graves marked with Field Stones
Also there looked to be at least 2 sunken graves