Hall Cemetery
HALL CEMETERY
Cabell County, West Virginia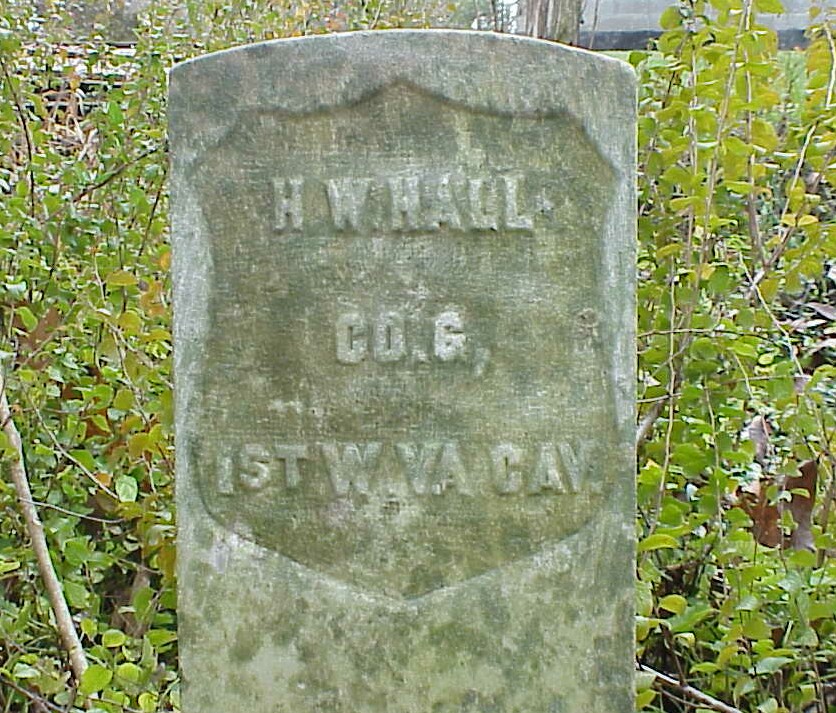 ---
Latitude: N 38° 27.323
Longitude: W 082° 16.012
Elevation: 810 feet
Accuracy: 35 feet
---
From Rt. 60 in Cabell County, WV. Between the town of Barboursville and Milton. Turn onto Blue Sulphur Rd. and take this road until you come to Hall Hill Road. Turn Left onto this gravel road and go up the hill to the second (2) house on the Left. The Cemetery is in the back yard and is overgrown with weeds and grass.

The following list was compiled by actual reading of the tombstones. All the information, excluding annotation, is written on the tombstone.
Submitted by Barry Huffstutler
Read November 02, 2005.
---
Hall Detail List
---
CATHERINE E. BIAS
B.
1873
D.
1938
Born: 12-19-1873 -- Died: 05-10-1938 --
Buried: 05-12-1938 -- Age 64
Parents: Henry W. Hall & Ann Joy
HECK FUNERAL HOME
---
WILLIAM L. BIAS
B. AUG. 23 1913
D. ARP, 1914
---
ANNA
HALL,
BORN
SEP. 1. 1834
DIED
OCT. 4. 1897
---
H. W. HALL
CO. G
1ST. W.VA. CAV.
---
MARY ELIZABETH
HALL
NOV. 14, 1869
JAN. 22, 1941
GONE BUT NOT FORGOTTEN
Born in Cabell County and Died in Lesage, WV.
Buried: 01-24-1941
Parents: Henry Hall & Annie Joy
HECK FUNERAL HOME
---
THOS. A.
HALL
BORN
JAN. 18, 1867
DIED
MAR. 5. 1898
---
Note: There is a marker for a Chester Hall Bias that can't be read.
Born: 05-06-1903 -- Died: 08-23-1953 --
Buried: 08-24-1953 -- Age 50
Parents: Charles Bias & Catherine Hall
HECK FUNERAL HOME
Other Possible Burials: (Cabell Cemeteries Books by Carrie Eldridge)
1. A Infant Baby on the outside of the fence.