Harless Cemetery
HARLESS CEMETERY
Cabell County, West Virginia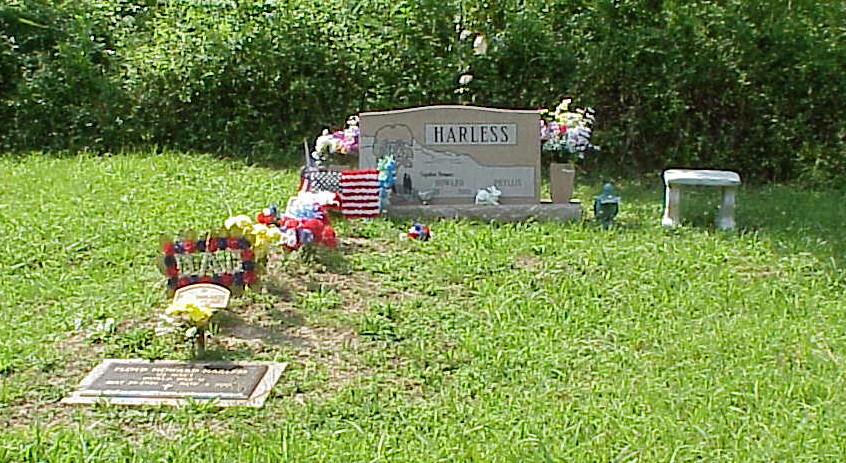 ---
Latitude: N 38° 16.329
Longitude: W 082° 13.699
Elevation: 615 feet
Accuracy: 21 feet
---
From Barboursville take Route 10 to Salt Rock, Cabell County, West Virginia. At Salt Rock turn Right onto Madison Creek Road and go to Smith Creek Road. Turn Right onto Smith Creek Road and go 0.3 miles to the Madison United Baptist Church sign. In the field behind the sign is the cemetery.
Submitted by Barry Huffstutler.
Read July 05, 2004.
Updated: December 31, 2007
---
HARLESS

Together Forever

HOWARD
PHYLLIS
1928 — 2001

1931
[ Headstone ]
--------------------
FLOYD HOWARD HARLESS
US NAVY
WORLD WAR II
MAY 24 1926
NOV 4 2001
†
[ Headstone ]
--------------------
If Tears Could Build A
Stairway, And Memories
A Lane, I'd Walk Right Up
To Heaven And Bring
You Home Again.
WALLACE FUNERAL HOME
---
FREDA L. HARLESS
1953
2007
This grave is marked with a Metal Marker only.
Freda Lorene Harless
Born: 02-27-1953 -- Died: 11-29-2007
Buried: 12-02-2007 Age: 54
Born in Logan, WV and Died in Cabell Co., WV
Husband: Terry Harless
Parents: Roy Nelson & Marie Bills Nelson Lucas
WALLACE FUNERAL HOME
Source: Herald-Dispatch newspaper
[ Headstone ]