Hatfield (Thomas) Cemetery
HATFIELD CEMETERY
Cabell County, West Virginia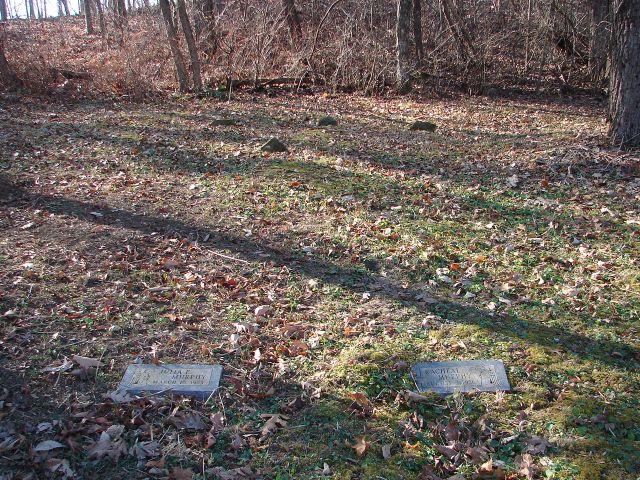 ---
Hatfield Detail List
Latitude: N 38° 16.629
Longitude: W 082° 14.648
Elevation: 936 feet
Accuracy: 23 feet
---
From US Route 60 in Cabell County at Barboursville, WV. Take Alt. 10 and Route 10 South to you come to Salt Rock. At the Chevron Gas station turn Right onto Madison Cr. Rd. Go about 4.5 miles or till you come to the hill that goes up to the Green Valley Cemetery. Just before you go up the hill there are 2 dirt roads that turn Right and go up the hill. Take the second road (the one that is not to steep). Go up the road to the house and park. You will have to walk the rest of the way up the hill. From the house take the old road up the hill and make sure you stay to your Left. The cemetery will be at the end of the road. The cemetery is not fenced but is keep clean.
Submitted by Barry Huffstutler.
Read December 15, 2006.
Updated: February 25, 2008
---
H
THOMAS A.
HATFIELD
FEB. 28, 1863
MAY 3, 1912
To die is gain.
The stone is broken across the middle and is laying on the ground.
Footstone: "T.A.H."
[ Headstone ]
---
JULIA E.
MURPHY
MARCH 18, 1955
[ Headstone ]
---
RACHEAL
MURPHY
AUGUST 3, 1956
[ Headstone ]
---
Note: There are 9 graves that are marked with Field Stones
and 1 unmarked grave.

Possible Burials for the 9 field stones graves.
1. Hatfield, Myrtle Prichard
Born: 1892 -- Died: 10-03-1913
Died of Complications of childbirth
Source: WV Culture
Ishmael Hatfield (grandson of Myrtle)
2. Three children of Ben Hatfield
(Brother of Thomas Hatfield)
Source: Robert Hatfield s/o Oda, b/o Ben (son of Thomas)
3. Three Gue's
Relatives of Nancy Jane Gue w/o Thomas Adam Hatfield.
Source: Robert & Ishmael Hatfield
4. Hatfield, Jerry
Died in his Teens
s/o Shem Hatfield & Ida Bias (second wife)
Source: Robert & Ishmael Hatfield
------------------------------------------------------------------------
Note:
Source -- Ed Prichard
Thomas A Hatfield, husband of Nancy Jane Gue.
His son, Shem Hatfield, married Myrtle Prichard, then Ida Bias.
Shem and Ida are buried in the Green Valley Cemetery.