Keenan Cemetery
KEENAN CEMETERY
Cabell County, West Virginia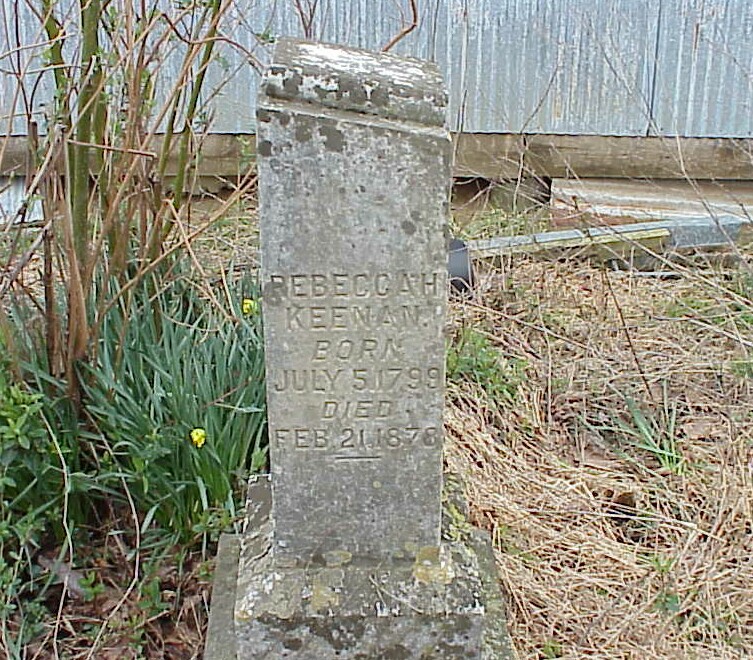 ---
Latitude: N 38° 18.704
Longitude: W 082° 12.774
Elevation: 611 feet
Accuracy: 15 feet
---
From Huntington, WV in Cabell County take State Rt. 10 to Salt Rock. At Salt Rock cross the bridge and railroad tracks. As soon as you cross the tracks turn Right onto Midkiff Rd. Go 0.9 of a mile or until you come to the 1st. railroad crossing. Cross track and turn Right then Left to the cemetery. Only one marker in this small cemetery.
The following list was compiled by actual reading of the tombstones. All the information, excluding annotation, is written on the tombstone.
Submitted:
July 5, 2005 by Barry Huffstutler.
---
PATRICK
KEENAN
BORN
MAR. 5, 1784
DIED
MAY 23, 1863
———
Also on the same marker is:
REBECCA H.
KEENAN
BORN
JULY 5, 1799
DIED
FEB. 21, 1878
———
Footstones: "P.K." and "R.K."