Keesee/Adkins Cemetery
KEESEE CEMETERY
(Also known as the Adkins Cemetery)
Cabell County, West Virginia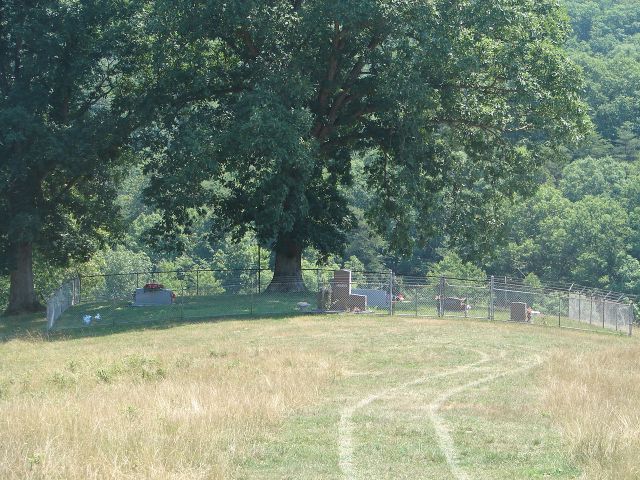 ---
Keesee/Adkins Detail List
Latitude: N 38° 20. 916
Longitude: W 082° 21. 910
Elevation: 908 feet
Accuracy: 18 feet
---
From Interstate 64 in Cabell County, WV. take exit 11 and go South on State Rt. 10. Go about 2 miles and turn Right onto Green Valley Rd. Take this road until it comes to Bowen Ridge Road. Turn Right onto this road and go about 0.2 mile. You will come to a pasture field on your Right that has a gate across the dirt road that goes out through the field to the cemetery. The gate is locked. You can do one of to things -- ask the people in the house above the gate on how to get a key to open it or you can walk to the cemetery. The cemetery is about 0.4 mile from the gate. The cemetery is fenced and maintained.
Read July 7, 2007
by Barry Huffstutler, & George Swann
Submitted by Barry Huffstutler.
---
CLARENCE
AND
PAULINE
ADKINS
CLARENCE
PAULINE
AUG. 6, 1932
FEB. 16, 1935
(blank)
AUG. 28, 1990
[ Picture ]
---
MICHAEL ALLEN ADKINS
2005
2005
This grave is marked with a Metal Marker only.
HALL FUNERAL HOME
---
ADKINS
VERLIN
RITA
JULY 31, 1909
DEC. 22, 1910
JAN. 9, 1997
JAN. 20, 1996
IN LOVING MEMORY
[ Picture ]
CHAPMAN'S MORTUARY
---
KEESEE
FRANK
MARYETTA
1864 —— 1936
1862 —— 1934
---
JOHN KEESEE
BORN
MAY 10, 1900
DIED
DEC. 26, 1918
At Rest
Footstone: "JOHN"
---
BELOVED MOTHER AND MAMA
DINAH LUCAS
DEC. 30, 1913
MAR. 16, 1999
[ Picture ]
---
IN LOVING MEMORY
AL WOOTEN
JULY 2, 1946
DEC. 29, 2004
--------------------
ALEY JUNIOR WOOTEN
SGT US AIR FORCE
JUL 2 1946
DEC 29 2004
†
[ Picture ]
WALLACE FUNERAL HOME
---
BURL EDWARD
EMMOGENE
APR. 5, 1926
FEB. 17, 1930
JAN. 18, 1984
(blank)
IN MY FATHER'S HOUSE ARE MANY MANSIONS
WOOTEN