Keesee (George) Cemetery
KEESEE (George) CEMETERY
Cabell County, West Virginia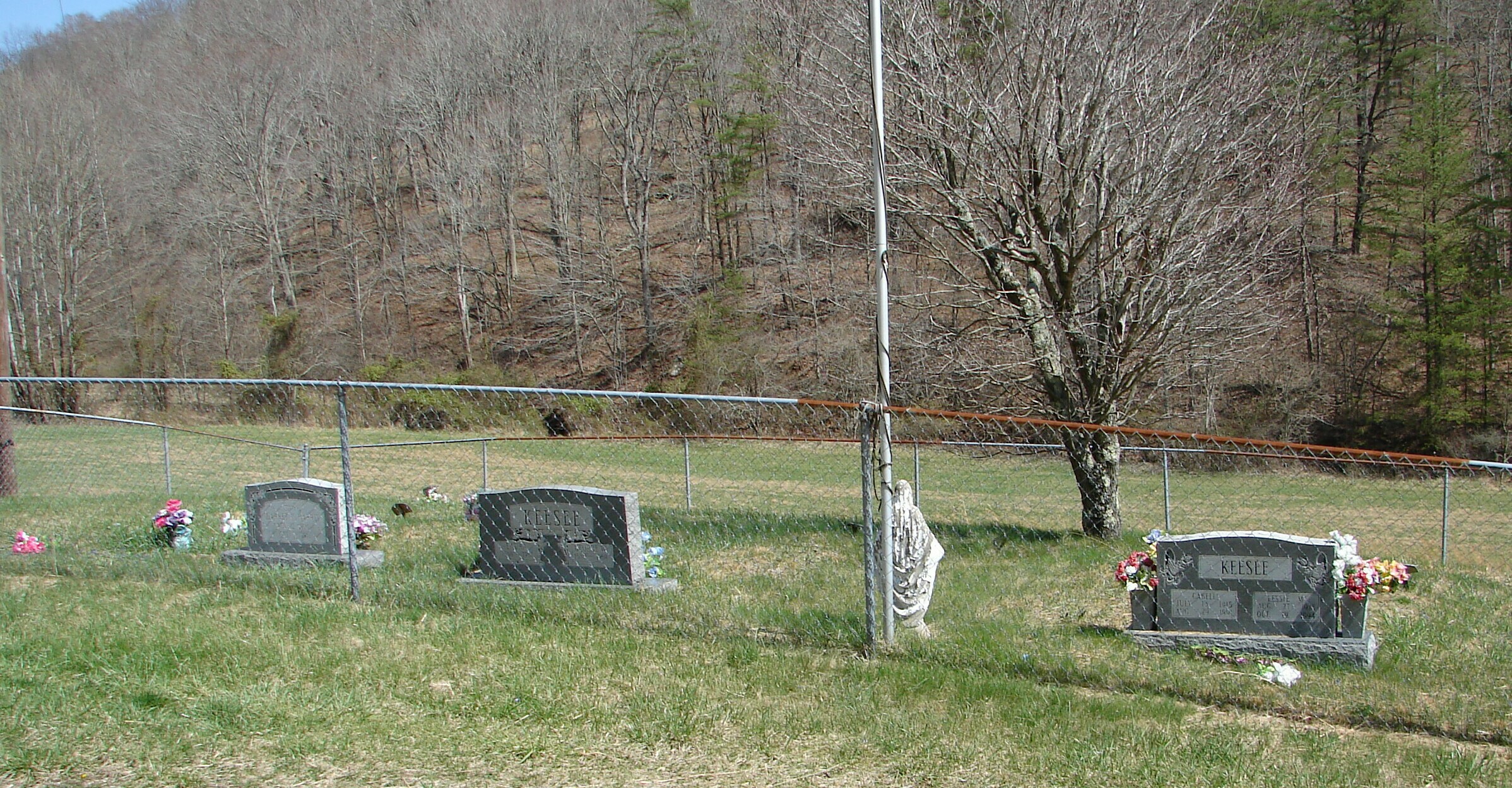 ---
Keesee (George) Detail List
Latitude: N 38° 14.690
Longitude: W 082° 16.502
Elevation: 725 feet
Accuracy: 19 feet
---
From US Route 60 in Cabell County at Barboursville, WV. Take Alt. 10 and Route 10 South to you come to Salt Rock. At the Chevron Gas station turn Right onto Madison Cr. Rd. Go about 5.6 miles or till you come to Bowen Creed Rd. Now go 3.6 miles or till you come to Hughes Branch/Raccoon Creek Rd. Turn Left and go 1.5 miles or till you come to Beach Fork Rd. At this junction in the road keep Left and you will still be on Raccoon Creek Rd. Also there is a sign for Bethlehem United Baptist Church at this junction. (All mileages will be from this point) Now go 3.4 miles and the cemetery will be on your Left up a small driveway. The cemetery is fenced and well maintain.

The following list was compiled by actual reading of the tombstones. All the information, excluding annotation, is written on the tombstone.
Submitted by Barry Huffstutler.
Read April 04, 2006.
---
Note: This grave is marked with a Medal Marker only.
REGER FUNERAL HOME
---
SISTER
GARNET K. HARRIS
NOV. 12, 1904
OCT. 6, 1991
The "K" in Garnet is for "KEESEE".
WALLACE FUNERAL HOME
---
KEESEE
CABELL
LESSIE M.
JUNE 18, 1915
AUG. 27, 1915
AUG. 29, 1991
OCT. 19, 1994
WALLACE FUNERAL HOME (Both)
---
ELIZABETH SIAS
KEESEE
1917 —— 1969
Footstone: "WIFE"
---
JOHN KEESEE
US ARMY
WORLD WAR II
MAY 18 1920
MAY 11 1996
†
WALLACE FUNERAL HOME
---
KEESEE
LAURA
GEORGE W.
1880 —— 1967
1880 —— 1969