Keyser (Ephraim) Cemetery
EPHRAIM KEYSER, Sr. CEMETERY
Cabell County, West Virginia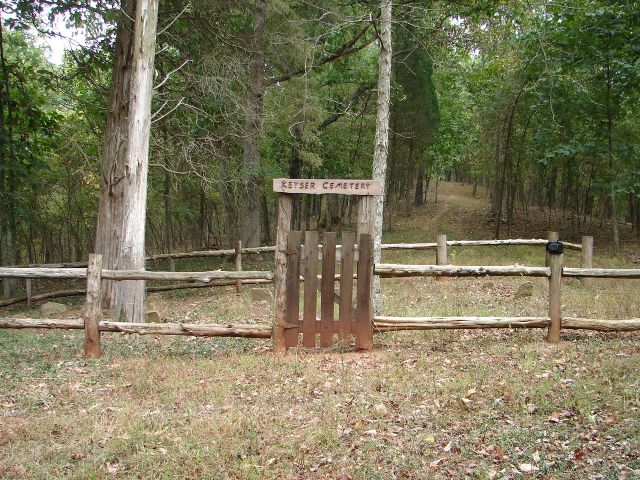 ---
Latitude: N 38° 20. 532
Longitude: W 082° 15. 364
Elevation: 688 feet
Accuracy: 14 feet
---
From US 60 in Barboursville, Cabell County, WV. take Alt 10 to Route 10 South.
(Abt. 2.5 miles) Turn Left (South) onto Route 10 and go about 6.2 miles or until you come to Merritts Creek RD. on your Left. Turn Left onto this road. When the road forks keep Right. You will now be on Camp Fire Rd. From Rout 10 to the cemetery is about 1.1 miles. The cemetery is located on the Big C Farm. The cemetery is up the hill (on the Right side of the road) in front of the house. The cemetery is fenced and maintained.
Read by Barry Huffstutler, George Swann, Ed, Prichard, Dennis Hensley
Read Sept. 9, 2007
Submitted by Barry Huffstutler.
---
There are only 6 Rock graves in this small cemetery and only 2 of the stones have writing on them. The other 4 have weather so bad that they can not be read. The below information was furnished by Dennis Hensley and the Death Certificate are from the WV Vital Records.
1. Esque, Dora
Born: 09-04-1865
Died: 12-31-1931
Buried: 01-02-1932
[ Death Certificate ]
2. Keyser, Eliza
Born: Dec. 1930
Died: 07-22-1901
Eliza B. Morrison Married Ephraim Keyser (Sr.)
3. Keyser, Ephraim (Sr.)
Born: Dec. 1825
Died: 04-23-1901
Parents: John "Jack" Keyser & Elizabeth Jane Hill
4. Keyser, George W.
George middle name was -- "Washington"
Born: 04-14-1858
Died: 12-04-1936
Buried: 12-05-1936
[ Death Certificate ]
5. Keyser, Infant
Died: (WPA) 1913
6. Keyser, Jonnie (Johnny)
Died: (WPA) 1898
Parents: Ephraim Keyser & Eliza Morrison