Lucas Cemetery
LUCAS (Sarah) CEMETERY
(Heath Cemetery)
Cabell County, West Virginia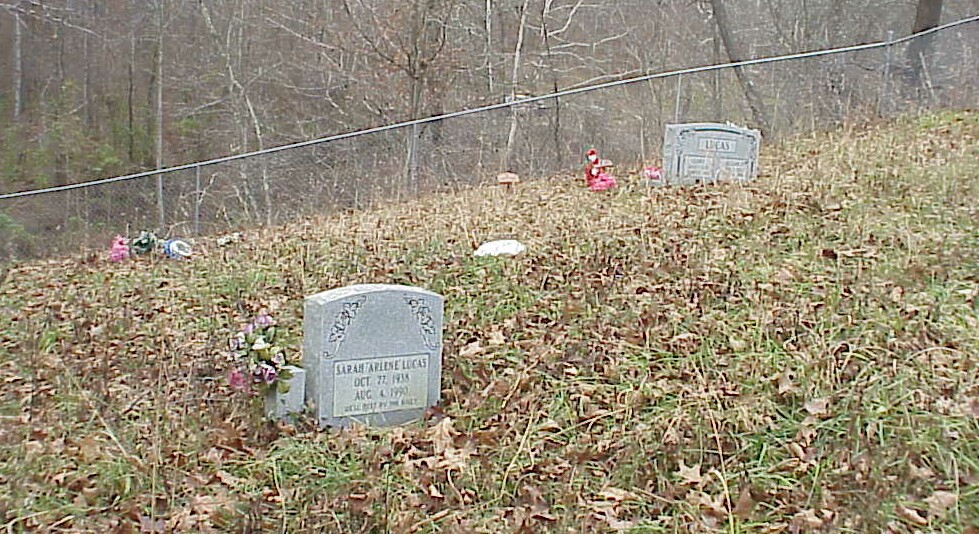 ---
Latitude: N 38° 18.150
Longitude: W 082° 13.562
Elevation: 705 feet
Accuracy: 17 feet
From US Route 60 in Cabell County at Barboursville, WV. Take Alt. 10 and Route 10 South to you come to Salt Rock. At the Chevron Gas station turn Right onto Madison Cr. Rd. Take this road until you come to Reuben Branch Rd. Now turn Right onto this road and go 0.7 mile. This will put you into a curve that turn to the Left. At this point there is a house on your Right. Park in the road that goes up to his barn. The cemetery is now on your Left side about 50 yards up the hill. The cemetery can be seen from the main road. It is fenced and maintained.
Submitted by Barry Huffstutler.
Read December 6, 2006.
---
Note: This grave is marked with a Metal Marker only.
It has no dates or the name of the funeral home on it.
Robert N. Heath b. 1869, was crippled. He was the son of Joshua Kemper
Heath b. 4 Apr 1839 Cabell Co VA d. 1872 from injuries suffered in the
Civil War and his wife Jane (Rope) Ross b.ca. 1845. Joshua Kemper
Heath was the first teacher of the Salt Rock School. The land Robert
N. Heath's grave is on was owned by his grandfather Nelson B. Heath b.
24 Feb 1819 Cabell Co. WV. d. 21 Dec 1854 and his wife Sarah Porter b.
1 Nov 1818 Cabell Co. WV and before that his great-grandfather William
Richard Heath and Nancy Sanford.
---
LUCAS
CLOVIS
LILLIAN E.
JUNE 7, 1923
OCT. 2, 1915
JUNE 23, 2001
APRIL 4, 1996
WALLACE FUNERAL HOME (Both)
---
SARAH "ARLENE" LUCAS
OCT. 27, 1938
AUG. 4, 1990
WE'LL MEET BY THE RIVER