May Cemetery
MAY CEMETERY
Cabell County, West Virginia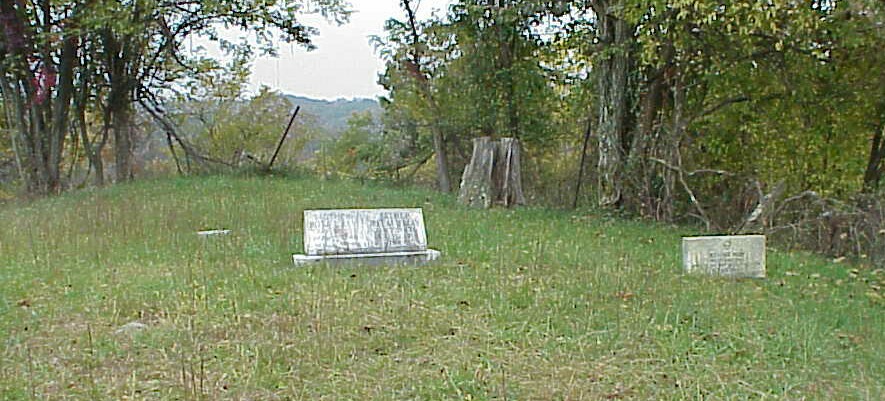 ---
Latitude: N 38° 30.632
Longitude: W 082° 15.667
Elevation: 943 feet
Accuracy: 17 feet
---
From Interstate 64 in Cabell County, West Virginia. Take exit 18 and follow the Route 2 signs for about 3.3 miles. When you get to Route 2 there will be a Red light. Turn Right onto Route 2 and go about 3.7 miles. You will come to a road called Oak Hill Rd. on the Right. Turn Right on this road and at the first intersection keep Left. At the next intersection go straight ahead and this will put you onto the Left Fork of Union Ridge Rd. You will now go about 2.7 miles to a road called Hickory Grove Rd. on the Right hand side. Turn onto this road and go to the first dirt road on the Right. Turn Right and go about 0.5 miles. The cemetery is located on a knoll in a field at the end of the road. ( You will need a 4-wheel drive truck on this road to get to the cemetery). The Cemetery is clean once a year and has no fence around it.
The following list was compiled by actual reading of the tombstones. All the information, excluding annotation, is written on the tombstone.
Submitted by Barry Huffstutler.
Read October 09, 2003.
---
MOTHER
FATHER
ROSA L. MAY
IRELAND MAY
MAY 5, 1877
JAN. 27, 1876
MAY 15, 1948
OCT. 19, 1918
RESTING TILL THE RESURRECTION MORN
Rosa and Ireland footstones are (BLANK)
---
†
KENNIE MAY
WEST VIRGINIA
PVT 10 BN INF REPL TNG GEN
WORLD WAR I
NOV 27 1896
JAN 5 1935
---
Note: There are five (5) graves marked with Rock Blocks.
There is one (1) grave marked with a Rock.