McCallister Cemetery
JOHN McCALLISTER CEMETERY
Cabell County, West Virginia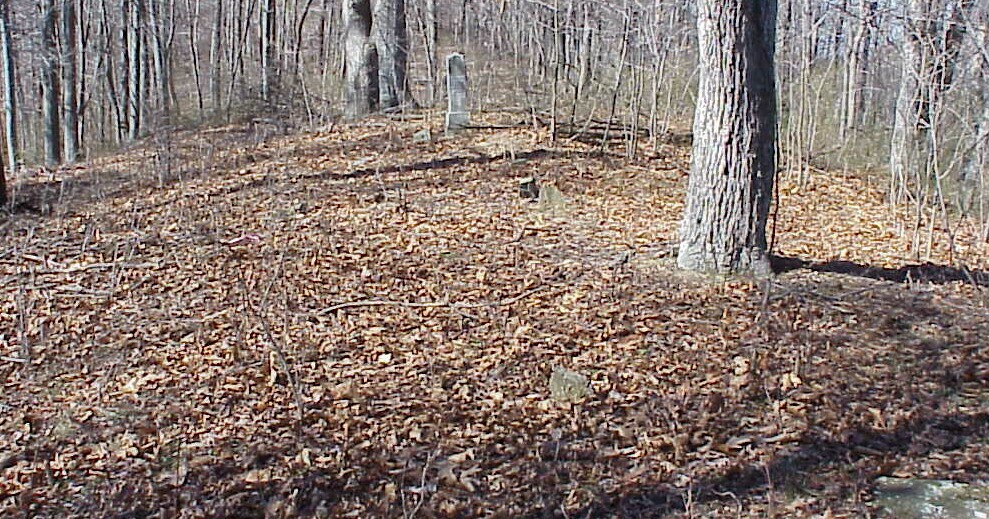 ---
Latitude: N 38º 21.828
Longitude: W 082º 10.563
Elevation: 965 feet
Accuracy: 20 feet
---
From US Route 60 in Ona, Cabell County, West Virginia take Fudges Creek Road for 6.1 miles to the top of the hill. Just before you start down the big hill turn Right on the dirt road . Then start keeping Left on all trails that goes out the Left ridge. After about a mile you will come to the cemetery on your Left. It is not fenced and not maintained.

Submitted by Barry Huffstutler
Read July 03, 2004
---
ANDREW
J. SMITH
DIED
AUG. 15, 1906
AGED
76Y. 5M. 11D
SMITH
---
MARY J.
HIS WIFE
DIED
JUNE 10, 1883
AGED
51Y. 4M. 21D
SMITH
---
Note: There are 15 graves marked with field stones and 5 unmarked graves.
Other Possible Burials in the Cemetery:
(Information From Carrie Eldridge Cemetery's Books of Cabell County, WV)
1. Birch, John H. (10-01-1848 -- 03-18-1936)
2. Birch, Malinda McCallister (09-08-1847 -- 07-29-1917)
3. McCallister, John (01-01-1817 -- 08-19-1903)
4. McCallister, Mariah Erwin (12-28-1824/6 -- 08-03-1890)
5. McCallister, Lucy
6. McCallister, Harrison (06-28-1854 -- 06-16-1886)
7. McCallister, Isaac Henry (01-13-1850 -- 03-05-1876)
8. McCallister, (Infant)