Andrew Melrose Cemetery
MELROSE CEMETERY
Cabell County, West Virginia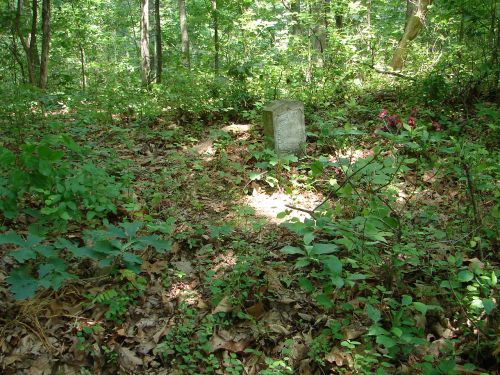 ---
Melrose Cemetery
Latitude: N 38° 22. 304
Longitude: W 082° 24. 111
Elevation: 962 feet
Accuracy: 20 feet
---
From Interstate 64 in Cabell County, WV take Exit 11 and go South on State Route 10. Go abt. 1 Mile and turn Right onto Mt. Union Rd. Now go about 1.3 miles or until you come to a large White Metal Garage/Barn on your Left. Turn Left onto the gravel road and go to the 2nd. house on your Left. There is a 4 wheeler path to the Left of this house. Take this path up the hill. You will come to a flat where the path forks. Take the Right fork and go on up the hill. At the top you will come to another path. Go Left on this one for about 100 yards. The cemetery will be on your Right on the highest point. The marker is under a large Oak Tree.
This cemetery is on land owned by David Booten. You should check with him before going up to the cemetery.
Read July 18, 2008
by Barry Huffstutler & George Swann.
Submitted by Barry Huffstutler.
---
SERGT.
ANDREW H. MELROSE
CO. K
8 IND. INF
---
Note: Only 1 other grave found. It was marked with Field Stones.