Morrison (Henry)
HENRY MORRISON CEMETERY
Cabell County, West Virginia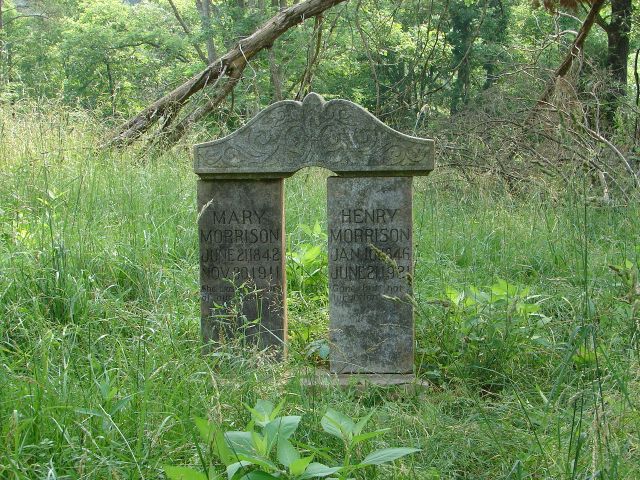 ---
Latitude: N 38º 20. 468
Longitude: W 082° 17. 042
Elevation: 720 feet
Accuracy: 19 feet
---
From Huntington Follow Rt. 10 past Lower Heath Creek
and just before Morrison Grocery store turn Left on a
gravel road. Go about 200 feet to the start of the hill
on your Left. Walk up the hill to a field (about 300 yd.)
Go up to the large Cedar Trees and you will find the
Cemetery. The cemetery is not fenced.

Read June 10, 2011.
by Barry Huffstutler, Ed Prichard, Dennis Hensley
Submitted by Barry Huffstutler
---
| | | |
| --- | --- | --- |
| MARY | | HENRY |
| MORRISON | | MORRISON |
| JUNE 21, 1842 | | JAN. 10, 1846 |
| NOV. 30, 1911 | | JUNE 21, 1921 |
| SHE WAS THE SUNSHINE | | GONE BUT NOT |
| OF OUR HOME. | | FORGOTTEN. |
[ Headstone ]