Parsons (Gordon) Cemetery
PARSONS CEMETERY (2)
(Gordon & Druzella)
Cabell County - Lincoln West Virginia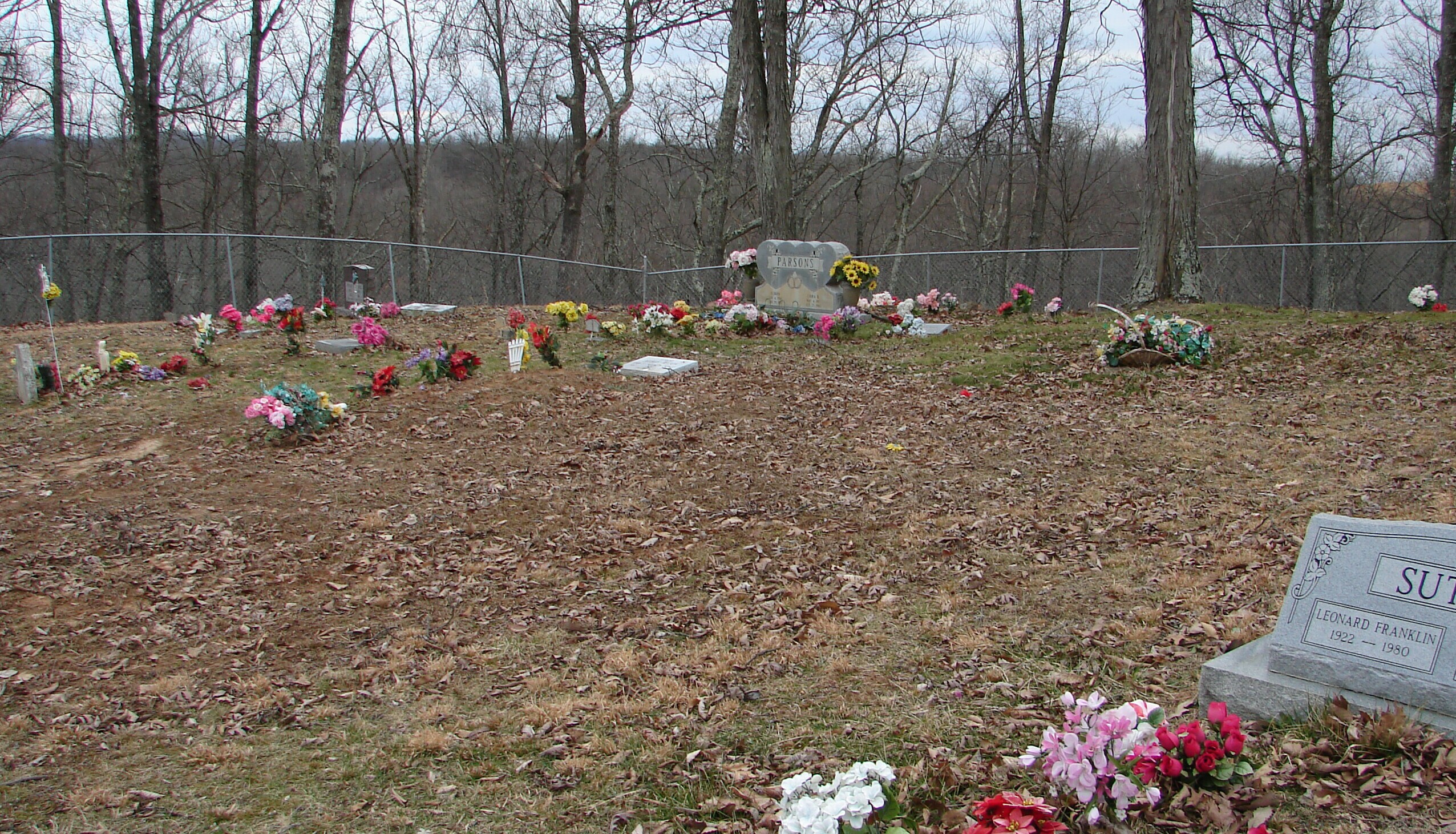 ---
Parsons Detail List
Latitude: N 38° 14.985
Longitude: W 082° 15.069
Elevation: 1104 feet
Accuracy: 22 feet
---
From US Route 60 in Cabell County at Barboursville, WV. Take Alt. 10 and Route 10 South to you come to Salt Rock. At the Chevron Gas station turn Right onto Madison Cr. Rd. Go about 5.6 miles or till you come to Bowen Creed Rd. Now go 3.6 miles or till you come to Hughes Branch/Raccoon Creek Rd. Turn Left and go 1.5 miles or till you come to Beach Fork Rd. At this junction in the road keep Left and you will still be on Raccoon Creek Rd. Also there is a sign for Bethlehem United Baptist Church at this junction. (All mileages will be from this point) Now go 3.6 miles until you come to a sign for the Alvin & Belva Parsons cemetery on the Left side of the road. Take the dirt road to the top of the hill. At the top take the road to the Left and go to the first gap in the fence. Go through the fence and take the road to the cemetery. The cemetery is fenced and well maintain.

Note: This cemetery is just across the Lincoln County line and has the parents of those buried in the Parsons Cemetery 1.
The following list was compiled by actual reading of the tombstones. All the information, excluding annotation, is written on the tombstone.
Read February 05, 2006.
Submitted by Barry Huffstutler
---
DELMER LEE JEFFREY
FEB. 14, 1930
JAN. 27, 1979
McGHEE FUNERAL HOME
---
HUSBAND
DELBERT NELSON
APRIL 5
NOV. 12
1937
2004
---
PARSONS
ARTIE
BESSIE ANN
JAN. 11, 1908
MAY 30, 1912
(blank)
JAN. 22, 1985
Note: Artie death date was "Jan. 25, 2000".
---
EDISON PARSONS
DEC. 17, 1927
DEC. 18, 1927
SON OF ELMON PARSONS
Footstone: "SON"
---
PARSONS
ELMON
CORA B.
NOV. 4, 1896
MAY 4, 1910
JAN. 28, 1977
AUG. 23, 1944
Footstones: "FATHER" and "MOTHER"
McGHEE FUNERAL HOME
---
ETNA PARSONS
NOV. 28, 1909
AUG. 4, 1996
GOD TAKES CARE OF US
KOONTZ FUNERAL HOME
---
PARSONS
GORDON
DRUZELLA
JULY 17, 1867
APR. 21, 1870
DEC. 21, 1940
MAR. 20, 1941
Footstones: "G.P." and "D.P."
---
SUTTON
LEONARD FRANKLIN
ALMA C.
1922 —— 1980
1928 —— 2002
---
†
LEONARD FRANKLIN SUTTON
S1 US NAVY
WORLD WAR II
1922
1980
HANDLEY FUNERAL HOME (Alma)
---
Note: There are 7 graves that are marked with field stones only.