Isaiah Ray Cemetery
ISAIAH RAY CEMETERY
Cabell County, West Virginia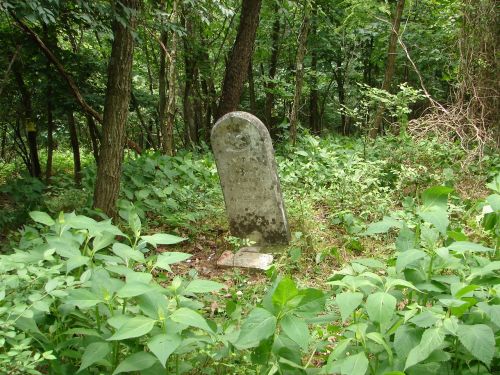 ---
Isaiah Ray Cemetery
Latitude: N 38° 22. 591
Longitude: W 082° 24. 423
Elevation: 987 feet
Accuracy: 20 feet
---
From Interstate 64 in Cabell County, WV take Exit 11 and go South on State Route 10. Go abt. 1 Mile and turn Right onto Mt. Union Rd. Now go about 1.3 miles or until you come to a large White Metal Garage/Barn on your Left. About 100 yards before you come to the White Metal Garage/Barn there is a Concrete driveway that turn to your Right. Turn Right onto this driveway and stay to the Right up the hill. Go to the 2nd. house on your left and park. This house belongs to Mary Ullom. Check with her before go up to the cemetery.
Take the path that goes up the hill behind the driveway. Go to the top of the hill and the cemetery will be on your Right. The cemetery is not fenced or maintained.
Read July 18, 2008
by Barry Huffstutler & George Swann.
Submitted by Barry Huffstutler.
---
"I HOPE WE MEET AGAIN"
ISAIAH RAY
BORN
Oct. 12, 1837
DIED
Apr. 29, 1882
─────
Footstone: "I.R."
[ Headstone ]
---
Note: Found 2 Field Stones graves & 1 unmarked
Other Possible Burials: (Source -- Carrie Eldridge Cemeteries Books)
1. Ray, Isiah -- 1808 - Oct. 6, 1865
2. Ray, Joseph -- 1843 -- s/o Isiah & Lucy Barbour Ray
3. Ray, Bessie -- d/o Millard Ray (dress caught on fire at age 7)
4. Ward, Infant -- Infant of Ira Ward
5. Ray, Henry Buffington