Floral Oaks Cemetery
FLORAL OAKS CEMETERY
(Flowering Oaks)
Cabell County, West Virginia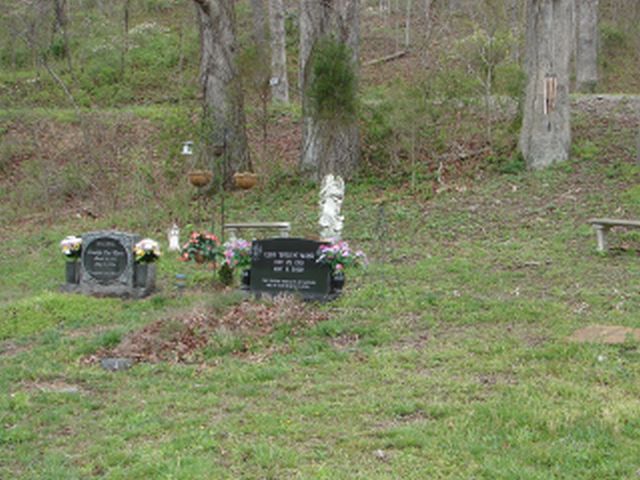 ---
Latitude: N 38° 21. 277
Longitude: W 082° 16.575
Elevation: 722 feet
Accuracy: 18 feet
---
From the Mall Exit on Interstate 64 in Cabell County, WV you will take US 60 East. You will go over a bridge and come to a red light. Turn Right at this light. This will be Cyrus Creek Rd. Take this road to the end. Turn Left onto this new road (McComas Rd.) Stay on this road until you come to Malcolm Rd. Turn Right onto this road and go to the end of the paved road (about 2.1 miles). The cemetery is about 100yd past this point. It will be on your Right. It is between the road and the railroad tracks. The cemetery is not fenced but is maintained.
Submitted by Barry Huffstutler.
Read April 11, 2007.
---
--------------------
No farewell words
were spoken,
No time to say goodbye.
You were gone
before we knew it.
And only God knows why.
This grave is marked with a large statue and a
Metal Marker from
HALL FUNERAL HOME
Joann Dates were --
Age: 63
Born: Oct. 28, 1940 -- Cabell Co.
Died: Oct. 3, 2004 -- Huntington
(St. Mary's Medical Center)
Buried: Oct. 6, 2004
Parents: Earl & Irene Bostic
---
ELVA "EVELYN" MAYO
OCT. 25, 1921
MAY 11, 2002
THE TENDER THOUGHTS OF MOTHER
ARE IN OUR HEARTS TO STAY.
Footstone: "MOMMY"
---
Loving Mother
CAROLYN SUE ROWE
MARCH 14, 1942
MAY 21, 2006
"Treasured in our Hearts"
Back of Marker --
THE JOURNEY
I know where my journey takes me
and now I've found the way
through and by the blood of Jesus
and His saving grace.
Jesus and me
WALLACE FUNERAL HOME
Age: 64
Born in Cabell Co.
Died in Ona (at home)
Buried: May 23, 2006
Parents: Ronald Rowe & Evelyn Mayo