Sheff/Love Cemetery
SHEFF/LOVE CEMETERY
Cabell County, West Virginia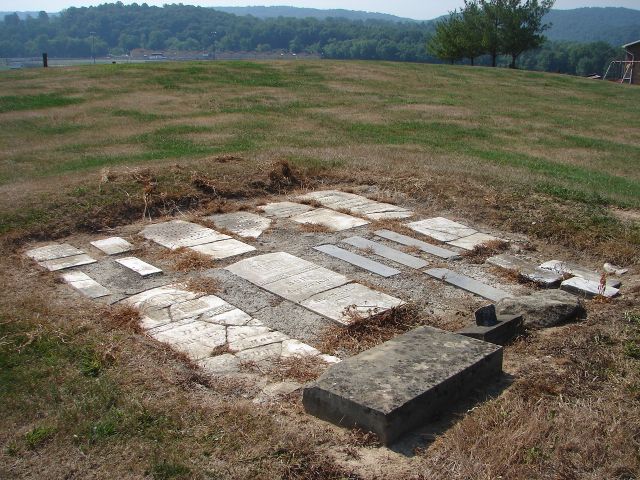 ---
Sheff/Love Detail List
Latitude: N 38° 26. 545
Longitude: W 082° 12. 406
Elevation: 635 feet
Accuracy: 22 feet
---
From US 60 in Ona, Cabell County, WV take Howells Mill Rd. for about 2.6 miles or till you come to Prichard Rd. Turn onto this road and go about 0.3 miles. The cemetery will be on your Right side just before the road goes down the hill to the airport.
The Cemetery is located on T. A. Chapman property near the Prichard School off Howells Mill. It is the family cemetery of William Love who was the brother of Daniel Love across Mud River. The cemetery name was latter change to the Sheff cemetery. The cemetery was adandoned until the mid 90's. and was very overgrown. The cemetery then was bulldozed and reclaimed by the BSA troop 701. The stones were broken and badly damaged. They were put back together and cemented in a 10 foot area. It is reported that there are slaves buried in the cemetery also.
The Love family first settled on the North side of the river where this cemetery is located. As the family expanded one branch purchased land on the South side of Mud River just east of Ona. One Civil War skirmish left holes in the house on the South side. Several of the Love sons fought in the war.
Read July 17, 2007
by Barry Huffstutler, Ed Prichard, & George Swann.
Submitted by Barry Huffstutler.
---
AMBROSE L. DOOLITTLE
BORN
JAN. 20, 1800,
DIED
AUG. 15, 1856
─────
Note: Owned Howells Mill
---
SAMUEL HARSHBARGER
DIED
JULY 25, 1846,
AGED
27Ys. 11Mos.
& 15Days.
─────
---
THOMAS E.
SON OF
A. W. & D. HATFIELD
BORN
SEPT. 9, 1861,
DIED
DEC. 2, 1864.
Short was the little stingers stay
He came but as a guest;
He lusted life and fled away
To his eternal rest.
---
ELIZABETH
WIFE OF
WM. LOVE
DIED
AUG. 3, 1851
AGED
59Ys. 5Ms. 2D.
─────
---
S. C. LOVE
D. DEC. 17
1827
A. 43YS.
---
WILLIAM LOVE
DIED
JUNE 16, 1870
AGED
88Ys. 5Ms. 16Ds.
─────
---
JOHN H. SHEFF
DIED
AUG. 20, 1865
AGED
--Ys. 4M. 19D.
────
Note: The stone is broken and the years can't be read.
---
MARY,
WIFE OF
ANDREW SHEFF
DIED
JAN. 25, 1856
AGED
51Yrs. 9Mos.
& 10Ds.
─────
---
DIED
NOV. 11, 1856,
In the 61st. Year
of her age.
Note: There is no other data with this marker
---
Footstones: Several footstones were found at this site --
L.T. -- A.W.H. -- W.W.B. -- M.D. -- A.T.
---
Other Possible Burials:
(Source) Carrie Eldridge Cemeteries Books

1. Brown, William -- s/o Thomas & J. (Nov. 1, 1895 -- 6ys & 5mos.)
2. Dennison, John -- (Jan. 2, 1815 -- Jan. 12, 1897)
3. Dennison, Mary -- 1st. w/o John (June 22, 1815 -- May 3, 1858)
4. Dennison, Mahala -- 2nd. w/o John (Died Apr. 19, 1861 -- 26ys.)
5. Dennison, Adala -- Her Daughter (Nov. 16, 1860 -- Mar. 6, 1864)
6. Dennison, Margaret -- d/o John & Mary (Died Apr. 13, 1868)
7. Hatfield, Alexander W. -- (July 20, 1830 -- Jan. 18, 1868)
8. Hatfield, Alice C. -- d/o AW & D Hatfield (May 6, 1875 -- 12ys.)
9. Harshbarger, Albert -- s/o S & MA (Aug. 23, 1842 -- May 26, 1844)
10. Love, Elizabeth -- w/o Wm. Love (Died Aug. 3, 1851 -- 59y & 5m & 2d)
11. Love, Susannah B. -- w/o William Love (Died Oct. 12, 1827 -- 32y & 9m)
12. Turner, Leonard -- (Apr. 16, 1820 -- May 6, 1884)
13. Turner, America -- (Apr. 18, 1858 -- May 22, 1878)