Shelton Cemetery #1
SHELTON CEMETERY # 1
Cabell County, West Virginia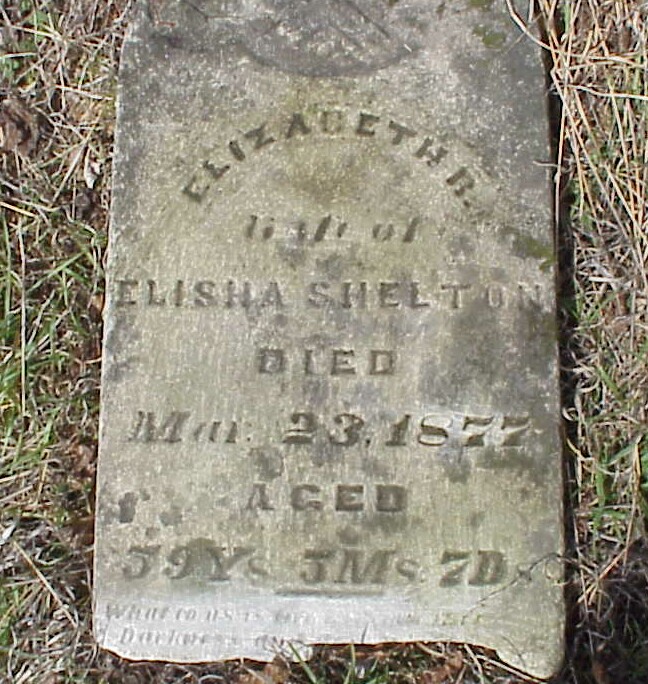 ---
Latitude: N 38° 18.716
Longitude: W 082° 12.761
Elevation: 593 feet
Accuracy: 18 feet
---
From Huntington, WV in Cabell County take State Rt. 10 to Salt Rock. At Salt Rock cross the bridge and railroad tracks. As soon as you cross the tracks turn Right onto Midkiff Rd. Go 0.9 of a mile or until you come to the 1st. railroad crossing. Cross track and the cemetery is across the road in front of you. Overgrown with weeds and not maintained. Only one marker in this small cemetery but several field stones.
The following list was compiled by actual reading of the tombstones. All the information, excluding annotation, is written on the tombstone.
Submitted:
July 6, 2005 by Barry Huffstutler.
---
ELIZABETH
WIFE OF
ELISHA SHELTON
DIED
MAR. 23, 1877
AGED
58YS. 5MS. 7DS.
———
Note: There is a verse on the bottom of the stone.
The stone is broken off at the bottom and the verse can't be read.