J. K. Swann Cemetery
J. K. SWANN CEMETERY
Cabell County, West Virginia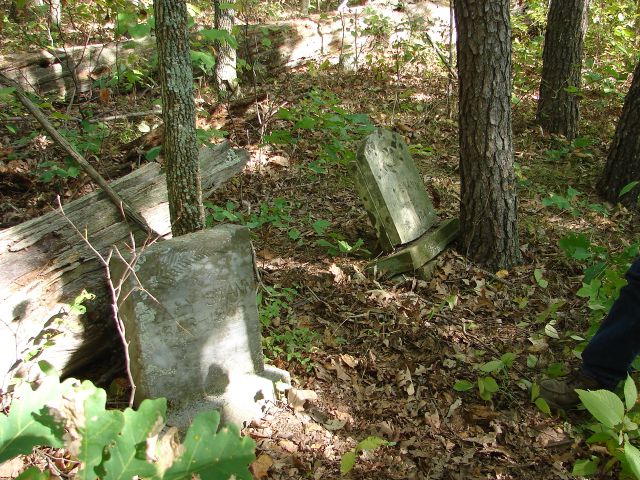 ---
Latitude: N 38° 19. 722
Longitude: W 082° 14. 732
Elevation: 853 feet
Accuracy: 15 feet
---
From Barboursville take Alt. 10 and Rt.10 for about 10 miles. When you come to the Methodist Church Camp Asbury (on your Left) go about 0.2 miles past this church camp. You will come to a small gravel driveway on your Right side that goes up to a brick home. Turn up this driveway and go to the house. There is a small pond behind the house. The cemetery is on the Left side of the pond and about 150 yard up the hill near the top. The cemetery is in the woods and has not been maintained.
Read by Barry Huffstutler, George Swann, Ed, Prichard, Dennis Hensley
Read Sept. 30, 2007
Submitted by Barry Huffstutler.
---
BERNICE
MORRISON
1914
1918
Footstone: "B. M."
---
J. K. SWANN
BORN
DEC. 1, 1844
DIED
JAN. 4, 1893
Thy will be done
---
---
This grave is marked with a Metal Marker only.
HECK & DANFORD SERVICE
---
Unmarked or Rock Graves:
(Source: Carrie Eldridge Cemeteries & WV Vital Records)
1. Swann, James H.
[ Death Certificate ]
2. Swann, Marshall A.
[ Death Certificate ]
3. Swann, Mary H.
[ Death Certificate ]
---
Note:
There are 2 Metal Markers (1 can be read & 1 that can't be read).
There are at least 7 graves that are marked with Field Stones.
There is 1 unmarked grave.