Topping Cemetery
TOPPING CEMETERY
Cabell County, West Virginia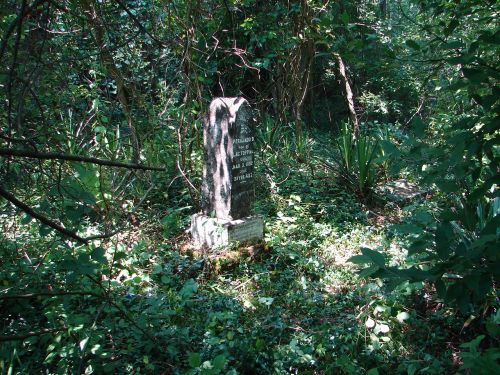 ---
Topping Detail List
Latitude: N 38° 22. 958
Longitude: W 082° 22. 685
Elevation: 688 feet
Accuracy: 15 feet
---
From Interstate 64 in Cabell Co., WV take State Route 10 South. You will come to a Rich Gas Station at the intersection of the road that goes to Hite Saunders School. Just before you get to the Rich Gas Station there is a gravel driveway that turns to your Right. This will be the property of Paul Bowen. Take this driveway up the hill (Ab. 300 Yards). When you see the house on the hill the cemetery will be in the woods just below it.
The cemetery has been abandoned and is over grown with brush and weeds. It is not fenced and is in very bad shape.
Submitted by Barry Huffstutler.
Read June 12, 2008
Read by Barry Huffstutler, George Swann, Ed Prichard & Colton Lowder
---
FERNANDO D.
Son of
L. & C. TOPPING
Died
MAR. 3, 1892
Aged
29YRS. 4DS.
──────
The circle is broken
one seat is forsaken,
one brother from our
family is taken.
------------------------
Death has been here and
borne away
A brother from our side
Just in the morning of his day
In youth and love he died
[ Headstone ]
---
JESSIE M. TOPPING
1870 ── • ── 1902
[ Headstone ]
---
W. MEDLEY TOPPING
1869 ── • ── 1938
[ Headstone ]
---
TOPPING
VIRGIL M.
HESTER
1860 ─ 1951
1871 ─ 19(blank)
[ Headstone ]
---
Note: There were 3 graves that were marked with Field Stones.