Wallace - Davis Cemetery
WALLACE - DAVIS CEMETERY
Cabell County, West Virginia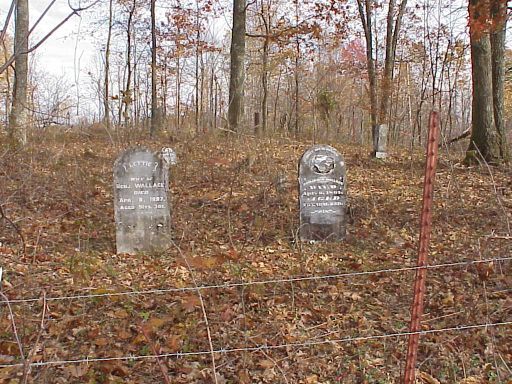 ---
Wallace - Davis Detail List
Latitude: N 38° 28.853
Longitude: W 082° 05.502
Elevation: 810 feet
Accuracy: 21 feet
---
From I 64 exchange in Milton, Cabell County, West Virginia go North on Johns Creek Road for 4.7 miles. At the top of the hill there is a mailbox that has a blue sign with the numbers "2399". Turn Right onto the small gravel road and go to the locked gate. From here go to the end of the road. The road ends at a barn and behind the barn is a locked gate. Go through the gate and take the old road until you come to the second cemetery past the gate. The first cemetery in on the right side and the second cemetery is on the Left side. This is the cemetery you want. The cemetery is fenced and cared for occasionally.
The following list was compiled by actual reading of the tombstones. All the information, excluding annotation, is written on the tombstone. Annotations are included following the entry for the majority of the stones. Abbreviations are used for the following: d/o - dau of; s/o - son of; c/o - child of; w/o - wife of; and h/o - husband of.
Submitted by Barry Huffstutler.
Read Nov. 11, 2002.
---
ROBERT H.
Son of
T.C. & S.F. DAVIS,
DIED
Feb. 18, 1876,
AGED
3Y. 3M. 18D.
— • —
[ Headstone ]
---
SUSAN F.
Wife Of
Thos. C. Davis
DIED
FEB. 13, 1891
AGED
43YS. 11MS. 3D.
————
O, will be sweet to meet
on that blest shore,
All sorrow passed
all pains forever o'er.
Footstone: S.F.D.
[ Headstone ]
---
MEET ME IN HEAVEN
BENJAMIN WALLACE
DIED
Apr. 6, 1861
AGED
70Y. 10M. 23D.
————
Footstone: B.W.
[ Headstone ]
---
LETTIE
WIFE OF
BENJ. WALLACE
DIED
APR. 8, 1887
AGED 91YS. 3DS.
— • —
Footstone: F.S.
[ Headstone ]
---
11 Graves marked with Field Stones.
2 Unmarked Graves.