Wheeler Cemetery
WHEELER CEMETERY
(McCallister)
Cabell County, West Virginia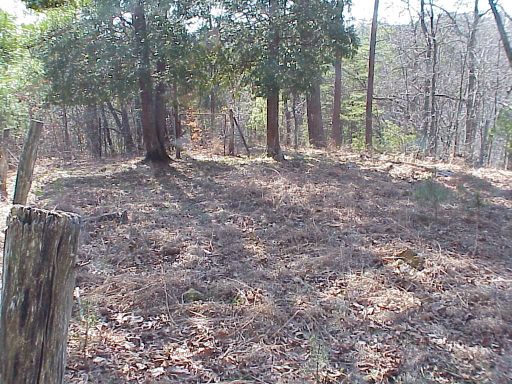 ---
Latitude: N 38° 22.413
Longitude: W 082° 10.956
Elevation: 975 feet
Accuracy: 21 feet
---
From US Route 60 in Ona, Cabell County, West Virginia take Fudges Creek Road till you come to Susannah Baptist Church (abt. 5 miles). Go on past this church for 0.2 miles. Park on the side of the road and take the path on the Left side of the road. Take the path up the hill to the cemetery (abt. 1/4 mile). The cemetery at one time had a fence around it but it is gone. The cemetery is not maintained.
Submitted by Barry Huffstutler
Read July 03, 2004
Updated June 7, 2009
---
HUGH N. ELKINS
1881 — 1924
The below is a rock marker.
H. N. ELKINS
DIED DEC. 20, 1924
---
LOVIE ANN ELKINS
1885 — 1943
Also has a rusty marker that has her dates as (1884 -- 1943)
HECK & DANFORD
---
JOHN H. WHEELER
1852
1938
This grave is marked with a rusty Metal Marker and a concrete block.
HECK & DANFORD
This is John Henry Wheeler
Son of Reason W. Wheeler and Mary Keaton.
Born 20 Dec 1852 in Cabell Co., and died 25 Sep 1938 in Barboursville
Buried 26 Sep 1938
He married Isabella McCallister 12 Jun 1873 in Cabell Co.
She was a daughter of Preston James McCallister and America Virginia Swann.
They had the following children:

Elias L. Wheeler who married Estella Myrtle Chapman
Daniel McCray Wheeler who married Hancey Ann Porter
Preston Wheeler
Reason Wheeler who married Rosa Verna Johnson
Lovie Anne Wheeler who married Hugh Nibert Elkins
Step Wheeler
Albert Wheeler who married Lucy Jane Martin
Mellington Addison "Coon" Wheeler, Sr. who married Edith N. Beckett
[ Photo ]
---
MARY WEATHERHOLT
WOOTEN
MARCH 28, 1952
MARCH 15, 2002
(Married July 2, 1971)
Footstone:
HECK FUNERAL HOME
[ Obituary ]
---
Note: The below information was submitted by George Swann.
---------------------------------------
There are 7 rock marked graves. Three have writing on them.
One rock has "Isabell W." on it. This is Isabell Swann (McCallister) Wheeler --
Born Jan. 1852 & Died between 1900 - 1906.
One rock has "P W" on it. This is for Preston Wheeler.
Born 1879 & Died before 1900.
One rock has "M C" on it. This is for Malvina (Wheeler) Childers.
Born 1837 & Died Apr. 27, 1870 -- Wife of Benjamin S. Childers.
------------------------------------------
Four other unmarked burials (courtesy of Mona Reubens).
Preston James McCallister -- Born Oct. 13, 1827 - Died 1893.
America Virginia (Swann) McCallister -- Born Mar. 27 1831 - Died after 1900.
Melfred Wheeler -- Born Nov. 29, 1894 - Died before 1900.
Unnamed Dau. of John & Isabell Wheeler -- Born Aug. 1877 - Died before 1880.