Wysong - Scites Cemetery
WYSONG CEMETERY
Cabell County, WV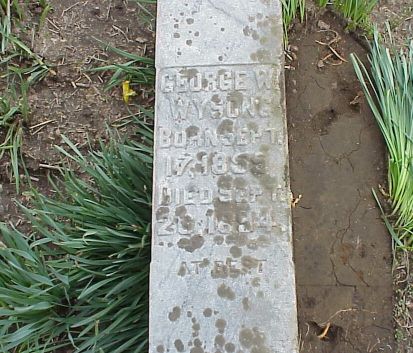 ---
Wysong - Scites Detail List
Latitude: 38° 19.030
Longitude: W 082° 13.026
Elevation: 684 feet
Accuracy: 24 feet
---
From Barboursville take Route 10 to Salt Rock, Cabell County, West Virginia and cross the bridge and the Railroad tracks, turn Right onto Midkiff Road and go 0.4 miles. The Cemetery is located on the Right side about 50 yards from the road. It is on property own by D. Jobe which lives on the Left side of the road. The Cemetery is in bad shape and all of the markers are laying on the ground.
The following list was compiled by actual reading of the tombstones. All the information, excluding annotation, is written on the tombstone. Annotations are sometimes included following the entry for the majority of the stones. Abbreviations are used for the following: d/o - dau of; s/o - son of; c/o - child of; w/o - wife of; and h/o - husband of.
Submitted by Barry Huffstutler.
Read Mar 2002.
---
JOSEPHINE
NEE SCITES
WIFE OF
J. R. CREGER
BORN
SEPT. 17, 1873
DIED
OCT. 7, 1903
Peaceful be thy silent slumber
Peaceful in thy grave so low
Thou no more will join our number
Thou no more our sory will know.
CREGER
Footstone: "J.C."
---
GODFREY
SCITES
BORN
DEC. 4, 1821
DIED
JAN. 23, 1902
Peaceful be thy
silent slumber.
SCITES
Footstone: "G.S."
---
Our Mother
MARY A.
WIFE OF
GODFREY
SCITES
BORN
AUG. 21, 1834
DIED
SEP. 13, 1905
SCITES
---
FREDIE M.
SON OF
GEO. W. &
ELLEN
WYSONG
BORN & DIED
SEPT. 3, 1888
WYSONG
Footstone: "F.M.W."
---
GEORGE W.
WYSONG
BORN SEPT.
17, 1855
DIED SEPT.
26, 1894
AT REST
WYSONG
Footstone: "G.W.W."
Note: Both George and Fredie are on the same stone.
One on the front and the other on the
Right side of a four corner stone.
---
FIELDSTONES ONLY:
Five grave marked with a field stone.
Also there is a base for one more stone but the stone is missing.