Northcott Court Demolition Winding Down
------------------------------------------------------------------------------------------------------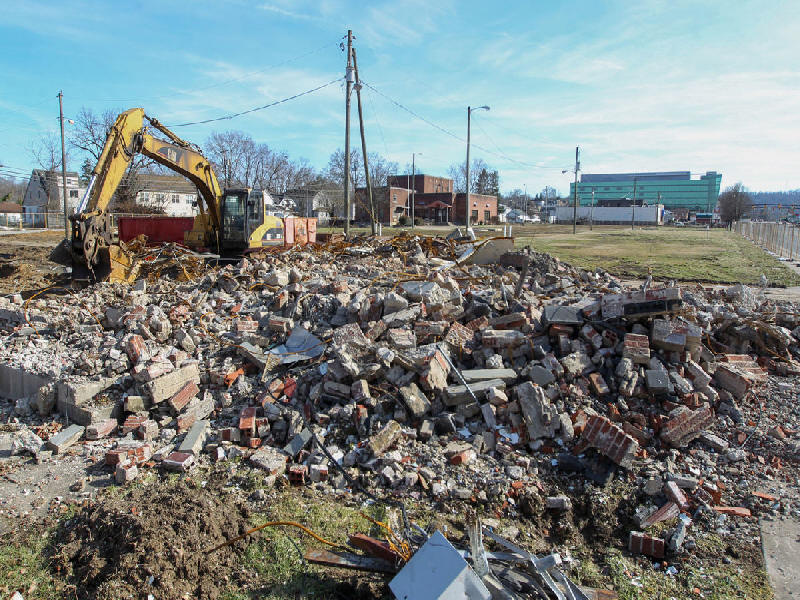 Demolitions at Northcott Court winds down as the crews
look toward finishing theproject in the coming weeks
------------------------------------------------------------------------------------------------------
HUNTINGTON — After more than four years, demolition at Northcott Court is expected to come to a close in the coming weeks.
Though the Huntington Housing Authority, who owns the property, has yet to release
any concrete plans, it has long been promised that this plot of land would be used
to bring the Fairfield community a grocery store as well as other retail shops.
However, some Fairfield residents are accusing the Housing Authority of going back
on its promises after Fairfield West Community President Robin Lapsley
posted a live video on Facebook earlier in the month saying she was
informed by sources at Cabell Huntington Hospital that the
hospital had bought the property and would be using
it for Marshall University pharmacy students.
The rumors were denied by members of the Huntington Housing Authority Board
of Commissioners as well as the Housing Authority's executive director
Vickie Lester during a commissioner meeting Tuesday.
"It was totally false information," Lester said.
Despite statements from several commissioners and Lester that her
information was false, Lapsley said she remained skeptical.
"I'm very cautious on whether I can believe people because I'm so used to people not
being truthful and giving me the runaround," she said. "We're used to hearing
one thing and them doing another. I'm giving them the benefit of the doubt,
but I guess because of my sources, my information seems more truthful."
Lapsley, 54, said she hopes she is wrong, but having lived in Fairfield
her whole life she said she has seen the city break many promises.
Lester told The Herald-Dispatch on Tuesday that the Housing Authority
was still in possession of the nearly four-acre plot of land along
Hal Greer Boulevard and had not even been in contact
with the hospital regarding the property.
She added that the Housing Authority has no intention to sell the property,
instead, they will be do a long-term lease with any future tenants.
This lease would then need the approval of the Authority's board of commissioners,
which would take place during a public meeting, as well as the United States
Department of Housing and Urban Development.
Lester said demolition at Northcott should be complete with the next two weeks.
The only building on the property that will not be demolished is the center office
building that contains four units as well as community meeting space.
Lester, said the demolition, which started in 2014, was purposely
drawn out in order to give each family the best chance
at finding alternative living arrangements.
Northcott Court, which is owned by the housing authority, first opened
in 1940 and consisted of 13 buildings and 130 housing units.
-----------------------------------------------------------
Note: This Article and picture appeared in the Herald-Dispatch Newspaper on Feb. 19, 2018
-----------------------------------------------------------
( Back )