Cabell Record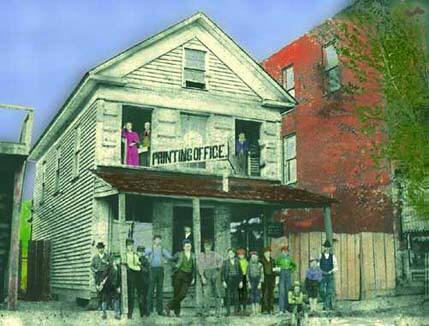 Newspaper Established
It was during the eighties that the town had its first newspaper, the "Milton Star," which was first established by a man named Davis. After a short time it was taken over by M. M. Ballentine, who published the paper for several years. The printing office was located on the second floor of the frame building adjoining the old Bowles corner.
In January, 1898 "The Cabell Record" was established by Jas. R. Dudley. At first it was a three-column paper printed on a hand press. The business expanded until it finally became a seven-column publication. For a while Mr. Dudley printed his paper in his home but afterwards rented a separate building. In 1905 he erected an up-to-date building which he furnished with the latest equipment. He died in 1908. Following his death his paper passed into other hands, and for a time it suspended publication.
---
---
These are Old Newspaper Stories and Pictures found in the Old Cabell Record newspaper archives.
Thanks to the Cabell Record for giving there permission to use the articles and Pictures from the old newspaper archives.
Make your selection on the Left side.
---
Along the Guyandotte (Part 1)
Along the Guyandotte (Part 2)
Along the Guyandotte (Part 3)
-----------------------------------------
Civil War History (Part 1)
(Guyandotte History)
Civil War History (Part 2)
(More Guyandotte History)
Civil War History (Part 3)
(Area Civil War History)
Civil War History (Part 4)
(1864 Election & Guyandotte Civil War)
Civil War History (Part 5)
(Major-General Crook)
Civil War History (Part 6)
(Guyandotte Burns)
Civil War History (Part 7)
(Civil War Recipes)
-----------------------------------------
Guyandotte Disaster - 1913 (Part 1)
(Bridge Collapse)
Guyandotte Disaster - 1913 (Part 2)
(A Poem about the Bridge Collapse)
Guyandotte Disaster - 1913 (Part 3)
(Pictures of the Bridge Collapse)
Guyandotte Disaster - 1913 (Part 4)
(Pictures of the Bridge Collapse)
-----------------------------------------
Morris Harvey College (Part 1)
Morris Harvey College (Part 2)
Morris Harvey College (Part 3)
Morris Harvey College (Part 4)
-----------------------------------------
Schools of the Barboursville Area (Part 1)
Schools of the Barboursville Area (Part 2)
Schools of the Barboursville Area (Part 3)
-----------------------------------------
History of the Milton Community (Part 1)
History of the Milton Community (Part 2)
History of the Milton Community (Part 3)
-----------------------------------------
The Grindin Mill (Part 1)
The Grindin Mill (Part 2)
-----------------------------------------
Rollyson History
-----------------------------------------
Devil's Den
-----------------------------------------
The Good Old Days
-----------------------------------------
History about Cabell Creek and Howell's Mill (Part 1)
History about Cabell Creek and Howell's Mill (Part 2)
-----------------------------------------
Public Hanging in Huntington (Part 1)
Public Hanging in Huntington (Part 2)
-----------------------------------------
Pictures of Prichard School
(also see County History Door for a
story about the Prichard School)
-----------------------------------------
Crook Elementary School 1906
Lower Greenbottom School 1924
Hite Saunders School
Earlier Schoolhouses in Milton
Schoolhouse in Milton
Turner School Ona
Tassen School (Picture)
-----------------------------------------
Barboursville Main Street (Picture)
Barboursville 1920 (Picture)
Old Court House (Picture)
Mary & Denver Yoho (Picture)