16th. Street Wiggins
------------------------------------------------------------------------------------------------------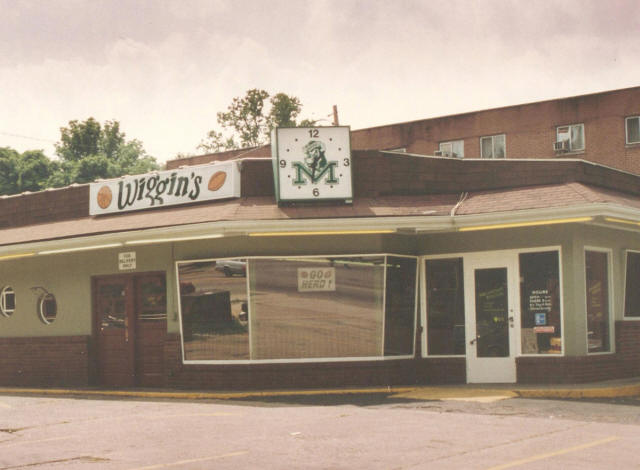 The Wiggins restaurant on the corner of 4th. Avenue and 16th. Street opened in
1957 and was a busy eatery for nearly 40 years.
------------------------------------------------------------------------------------------------------
For years the fans of Wiggins Bar-B-Q had two locations to choose from - one on 5th Avenue across
from the former Huntington East High School and the other on the corner of 4th Avenue and 16th Street
(today's Hal Greer Boulevard), just a few steps from Marshall University's Old Main.
East High and Marshall generated lots of hungry customers for the two restaurants.
The 5th Avenue restaurant was started, logically enough, by a man named Wiggins.
Research has failed to yield the year that Ralph Wiggins opened his eatery, although
many folks recalled eating there during the World War II years. As the name suggests,
barbecue was a popular item on the menu, as was the spaghetti. In 1956, a group of
local businessmen purchased the restaurant, which continued operating until the mid-1980s.
Meanwhile, veteran restaurateur Dave Freeman had obtained permission to open a second Wiggins
on the 4th Avenue corner across from Old Main. A former ramshackle drive-in restaurant was
demolished and a new building built. It opened in 1957 and quickly became
a busy place. Rob Freeman ultimately took over from his father.
The Freemans sold the restaurant in 1995. The next year, it burned and was not rebuilt.
Today, the once-busy corner where it stood is a parking lot.
In 1999, Rob Freeman and local businessman Edsel Rollyson teamed up to serve traditional
Wiggins barbecue and spaghetti at a new restaurant, Wiggins Central City, which they opened
on the corner of Madison Avenue and W. 14th Street. For a number of years Tascali's Decades
Pasta and Grill on U.S. 60 East also served items from the well-remembered
Wiggins menu. Both Wiggins Central City and Tascali's are now closed.
-----------------------------------------------------------
Note: This Article and picture appeared in the Herald-Dispatch Newspaper on June 20 , 2016
-----------------------------------------------------------
[ Back ]