A Hotel With Three Names
------------------------------------------------------------------------------------------------------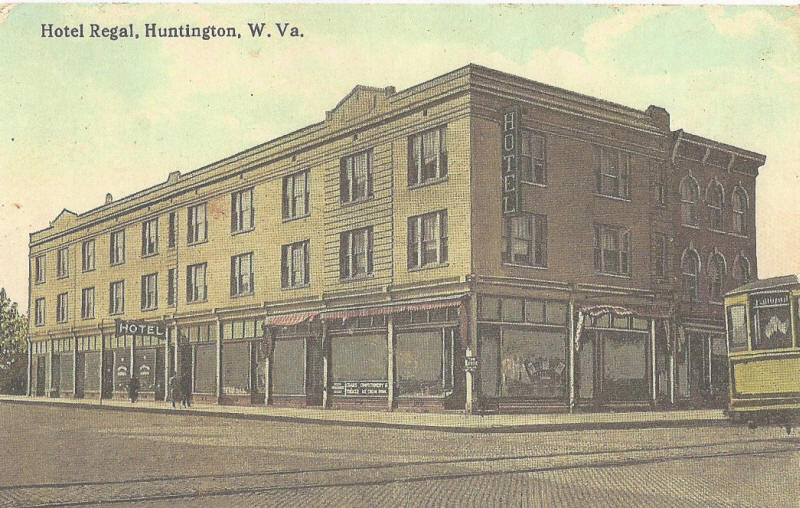 The Regal Hotel was built in 1911 on the southwest corner of 8th. Street and 3rd. Avenue.
Its name was later changed to the Grand Hotel, and still later to the Gotham. Note the
streetcar visible at the right of the picture.
------------------------------------------------------------------------------------------------------
HUNTINGTON -- What's in a name? Plenty, it seems, in the case of a hotel which once stood on 8th Street in downtown Huntington.
Over its 59-year history, it had not one, not two, but three different names.
Apparently the new hotel was a cause of widespread public speculation when its construction began.
People wondered what its name would be. An article in The Herald-Dispatch on March 26, 1911, answered that question.
It reported: "The new hotel at 3rd Avenue and 8th Street, erected by the Neel Realty Co., has been named the Regal Hotel."
The article reported "the sign bearing that designation has been erected in front of the 8th Street entrance,
located directly opposite the stage entrance to the Huntington Theater." The article went on to predict that,
with the theater just across the street, the new hotel "will doubtless secure considerable theatrical patronage."
The Regal, the article said, would be "operated by Mr. Harbour,
formerly the proprietor of the Harbour Hotel in the East End."
According to its listing in the 1940 Huntington City Directory, the hotel by then had a new owner and a new name:
the Grand Hotel. The listing boasted that the hotel had 50 rooms with "hot and cold running water in every room."
Twenty years later, the 1960 City Directory indicated the hotel had
again changed hands and been given yet another new name: the Gotham Hotel.
In 1970, the Huntington Urban Renewal paid the owner, Mrs. Despina N. Valavanis, $122,500 for the building,
which contained the hotel, a restaurant, barber shop and other businesses. The authority demolished the building and for
the next few years the property was used as a surface parking lot. In 1977, it became the site of Huntington's Municipal Parking Garage.
-----------------------------------------------------------
Note: This Article and picture appeared in the Herald-Dispatch Newspaper on Mar. 7 , 2016
-----------------------------------------------------------
[ Back ]