A&P Stores
------------------------------------------------------------------------------------------------------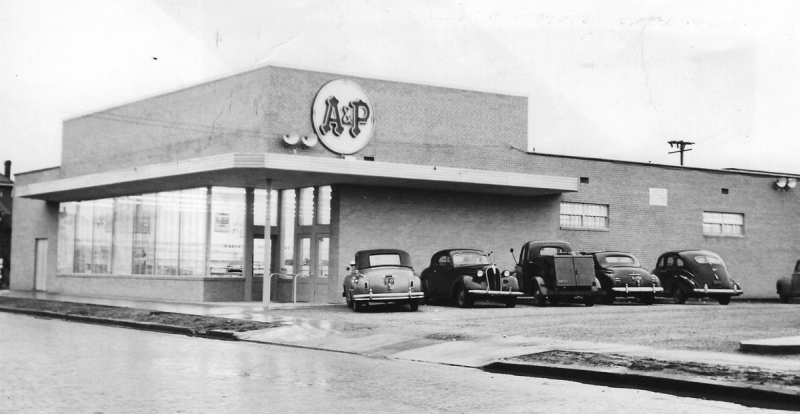 In 1946, AP built a $250,000 supermarket at 1444 Madison Ave. This photo was taken shortly after
construction was completed and the store opened for business. It closed in 1975.
------------------------------------------------------------------------------------------------------
HUNTINGTON -- Today's biggest U.S. retailer is Walmart, but in the 1960s that honor
went to the Great Atlantic & Pacific Tea Co., better known as A&P.
Founded in New York City in 1859, A&P grew to operate more than 4,000 stores in communities
both large and small all across the country. In the 1960s, the food chain had
three stores in Huntington. All three long ago closed.
In 1941, the chain built a supermarket at 2125 5th Ave. The store building was
demolished a number of years ago, and an Arby's restaurant now stands on the site.
A&P had planned to immediately follow up construction of its 5th Avenue store by building a store
in West Huntington, but the outbreak of World War II made that impossible. In 1946, with
the war over, the chain erected a new $250,000 store at 1444 Madison Ave., a site formerly
used by the Huntington Tumbler Co. With the opening of its new Madison Avenue store,
the chain closed a small store it had operated at 7th Avenue and 2nd Street,
converting that building to a warehouse.
The Madison Avenue store closed in 1975, as A&P began downsizing, closing many of its older,
smaller stores. The former supermarket building is still standing and is now occupied
by J&L Supply Co., a distributor of air compressors and parts.
In 1958, A&P built a $500,000 store at the Fairfield Plaza shopping center, 1400 16th St.
(now Hal Greer Boulevard). The store, the chain's largest in West Virginia, was built
by E.P. Leach & Sons Inc. of Huntington. Ultimately, the former A&P and the
other stores at Fairfield Plaza would be demolished to enlarge the parking
lot at Cabell Huntington Hospital.
After decades of struggling sales and financial turmoil, a bankrupt A&P ceased supermarket
operations in 2015 and put its remaining handful of stores (fewer than 200) up for sale.
-----------------------------------------------------------
Note: This Article and picture appeared in the Herald-Dispatch Newspaper on May 30 , 2016
-----------------------------------------------------------
[ Back ]