ACF Center Flow Cars
------------------------------------------------------------------------------------------------------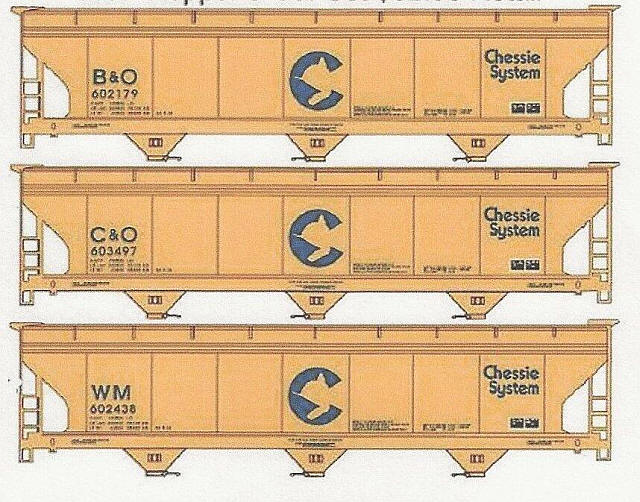 Scale-model replicas of the ACF Center Flow covered hopper car are
retailed to miniature train enthusiasts. These cars carry the logo
of the Chessie System and the identifying initials of the
Baltimore & Ohio and Chesapeake & Ohio railroads.
------------------------------------------------------------------------------------------------------
HUNTINGTON ó In 1962, ACF Industries revolutionized the rail transport
of bulk cargoes when it introduced its Center Flow covered hopper car.
Manufactured at ACFís long-time Huntington plant, the Center Flow carís
construction allowed for easier loading and unloading than previous
models. Most of the new cars were used to haul plastic pellets
which are made into soft-drink bottles, medicine
bottles, trash bags and similar products.
They proved enormously popular with the nationís
railroads, which ordered thousands of them.
On June 16, 1992, ACF celebrated the completion of the
100,000th Center Flow car built at the Huntington plant.
The plantís employees worked that morning, then
were given lunch and told to go home and bring
their families back for an open house.
ACF President James J. Unger presented a scale model of the
car to David Doran, representing Solvay Polymers, which
took possession of the 100,000th car just as it did
the first Center Flow car built in 1962.
Unger told The Herald-Dispatch that it took about 26 days
to build the car and said the plantís 400 employees were
finishing about six cars a day. When the plant was
going full steam with two shifts and 1,500
workers, it put out 25 cars a day, he said.
Constructing each Center Flow car required 65,000
pounds of steel, 50 gallons of paint and half a mile
of welding wire. The cars weighed 65,300
pounds when empty and hauled 132,400
pounds of cargo.
Huntingtonís ACF plant closed more than a
decade ago. Its buildings have been
mostly demolished to make way
for an envisioned redevelopment.
-----------------------------------------------------------
Note: This Article and picture appeared in the Herald-Dispatch Newspaper on Mar. 7, 2023.
-----------------------------------------------------------
[ Back ]