Albert E. Cox House
------------------------------------------------------------------------------------------------------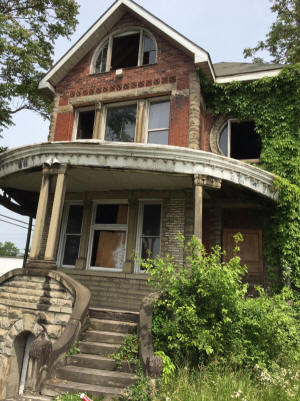 ------------------------------------------------------------------------------------------------------
HUNTINGTON — Ever wonder where Cox Landing got its name?
The name came from the Cox family, one of the first to settle in the region.
In 1795, William T. Cox moved from Buckingham County, Virginia, to
Mason County, and then later settled in eastern Cabell County.
There he opened a general store and built a crude wharf
where he could do business with the Ohio River
steamboats of that day. Hence
the Cox Landing name.
It's said that Cox Landing was one of the spots on the Ohio
River where local families helped escaped slaves flee to
freedom on the Underground Railroad.
Albert E. Cox was born at Cox Landing in 1860 to William's son
John A. Cox and Adela Fuller. As a young man, Albert
worked at his grandfather's store. He later became
a successful businessman, buying and selling
many bankrupt businesses.
After moving to Huntington, he retained J.B. Stewart, one of Huntington's
earliest and best-known architects, to build a handsome home at the
intersection of 3rd Avenue and 15th Street, then a neighborhood
of fine homes. Built in 1896, the Queen Anne brick structure
rests on a rusticated stone foundation that has a full
basement. A stone veranda surrounds
the front entrance.
The home was occupied by Cox's descendants for many years after
his death in 1935. During the 1960s, the family sold the house,
and it was divided into apartments. In the 1980s, the popular
1896 Club was established in the old house. The club's
basement had a dance floor under a mirrored ceiling,
the first floor had a bar and a stage for
entertainment, and the second
floor had a pool table.
The 1896 Club closed in 1993, and the house has been vacant since then.
Despite a fire in 1993 and another in the early 2000s, the structure
still stands, although it's sadly deteriorated. The distinctive,
square wood columns that originally held up the
veranda roof are gone, replaced
with rough-timber props.
The house could yet be restored to its former grandeur, but doing
so would be an ambitious and expensive proposition.
-----------------------------------------------------------
Note: This Article and picture appeared in the Herald-Dispatch Newspaper on July 27, 2021.
-----------------------------------------------------------
[ Back ]