Allegheny Airlines
------------------------------------------------------------------------------------------------------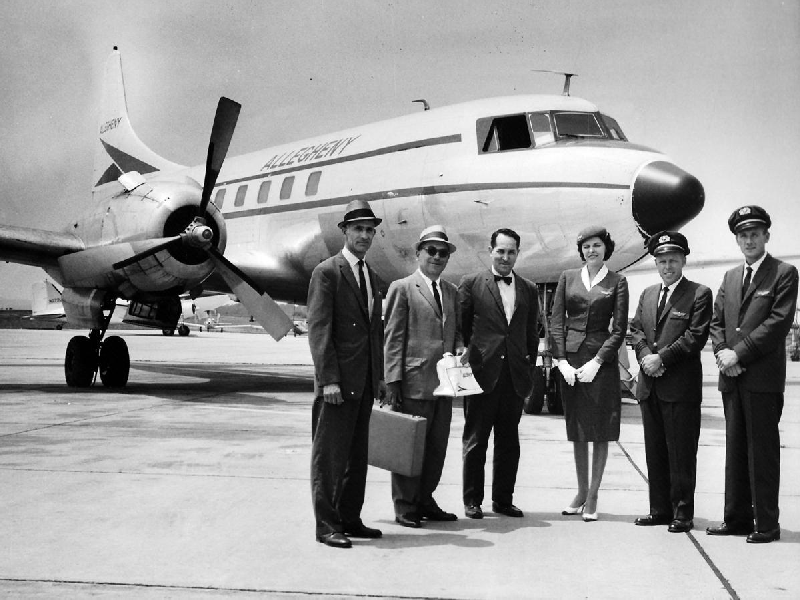 This carefully posed photograph was taken July 31, 1962, to mark the first flight to Tri-State
Airport by a new Allegheny airline, the Martin 404. Posing with the plane's uniformed
crew and an airline official are, at far left, Denvil Chandler, president of the
Tri-State Airport Authority, and Airport Manager A. O. "Pete" Cappadony.
------------------------------------------------------------------------------------------------------
HUNTINGTON — Unhappy passengers frequently shook their heads in dismay and referred
to it as "Agony Airlines." But over a 50-plus year period, thousands of passengers,
whether they liked it or not, found themselves flying Allegheny Airlines
between Huntington's Tri-State Airport and Pittsburgh International.
When Tri-State was dedicated in November 1952, it initially was served by three airlines
- Eastern, Piedmont and Allegheny. All three have since flown into aviation history.
Eastern went bankrupt. Allegheny rebranded itself as USAir and later
USAirways as it acquired other airlines, including Piedmont.
In 2013, in perhaps the nation's last big airline merger,
USAirways and American Airlines merged, with
USAirways management running the
combined operations.
Allegheny Airlines began as the All-American Aviation Company, a regional
mail delivery carrier founded by two brothers from the legendary
du Pont family, Richard C. du Pont and Alexis Felix du Pont Jr.
In 1949, the company was renamed All American Airways
as it switched from air mail to passenger service. On
Jan. 1, 1953, it was again renamed, this time to
Allegheny Airlines .Allegheny began flying
between Tri-State Airport and Pittsburgh
in June 1953, just seven months
after Tri-State opened.
By 2004, US Airways Express - the airline's affiliated regional carrier - was
scheduling three round trips a day between Tri-State and Pittsburgh,
although some of those flights frequently were scrubbed due to
crew shortages and other unspecified reasons. That summer
saw the airline cut its Huntington service to one
flight a day and then eliminate it entirely.
When the Huntington Regional Chamber of Commerce, the Huntington
Area Development Council (HADCO) and Rep. Nick Rahall,
D-W.Va., asked Allegheny to reconsider, it declined to
do so. And so Huntington was left without air
service to Pittsburgh for the first time
in more than 50 years.
-----------------------------------------------------------
Note: This Article and picture appeared in the Herald-Dispatch Newspaper on Aug. 27, 2018.
-----------------------------------------------------------
[ Back ]