Allegheny Fire Wquipment
------------------------------------------------------------------------------------------------------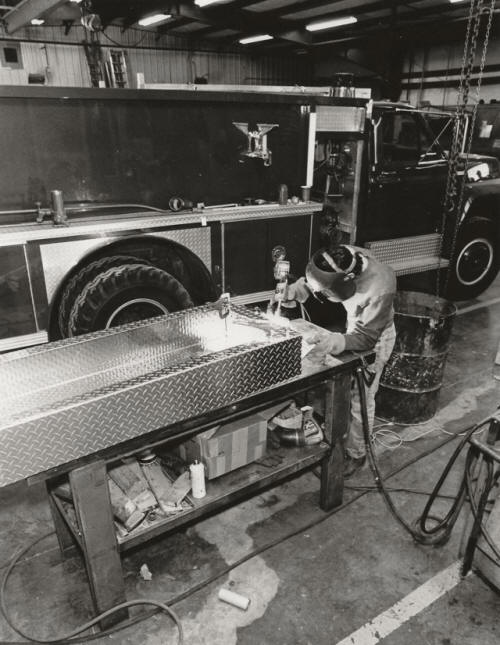 In a 1988 photo, Robert Robinson was shown welding a piece of
metal that would become part of a new fire truck at the
Allegheny Fire Equipment Co. in Ona
------------------------------------------------------------------------------------------------------
In the 1950s, William Vossler of Huntington and William Rucker of Barboursville organized the
Allegheny Fire Equipment Co. and launched their business by recharging fire extinguishers.
Later they began overhauling fire trucks at a Barboursville garage that Rucker owned.
As their business grew, they moved to Huntington, setting up shop in a building
at 1900 8th Ave. that once housed one of the city's first movie theaters.
Deciding they could build their own fire trucks, they built their first
one in 1965. Over the next few years, they built 60 trucks
for fire departments in more than a half dozen states.
In 1983, Jeff Vossler, who had succeeded his father as the company's president,
announced it was moving to Ona from Huntington because, he said, city
officials had failed to cooperate when he sought to expand in the city.
He also said the city repeatedly favored out-of-state companies
in buying its fire equipment. City officials denied his claim.
In a newspaper interview, Vossler said he began working at the company
when he was in junior high school. "I was fired so many times prior
to taking over the company, I can't count them. Now
I'm president. They can't fire me," he joked.
When it moved to Ona, Allegheny Fire Equipment located in a
14,400-square-foot building in the Ona West Industrial Park.
The company's fire trucks were all custom-made, with each tailored
to the individual needs of the purchasing fire department. The
company would buy a truck chassis and then make the
body in its shop. At its peak, it was making about
35 trucks a year. It also refurbished old trucks
for fire departments that couldn't
afford to purchase a new one.
According to records in the West Virginia Secretary
of State's office, the Allegheny Fire Equipment
Co. went out of business in 1996.
-----------------------------------------------------------
Note: This Article and picture appeared in the Herald-Dispatch Newspaper on Sep. 14, 2021.
-----------------------------------------------------------
[ Back ]