American Container
------------------------------------------------------------------------------------------------------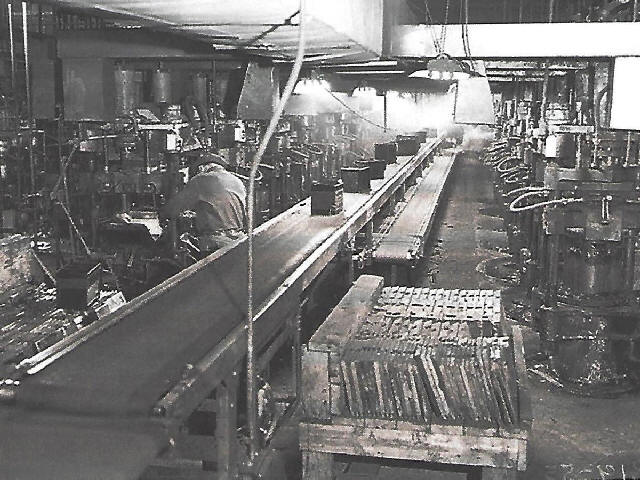 The West Huntington battery case plant operated by American Container Corp.
could produce as many as 10,000 hard rubber cases every day.
------------------------------------------------------------------------------------------------------
HUNTINGTON -- Opened in 1947, the American Container Corp. plant at 1111 Vernon St.
in the city's west end produced as many as 10,000 hard rubber battery cases every day.
The rubber cases varied greatly in size from as small as 10 inches to as tall as a man and
were used to hold batteries for cars and trucks, aircraft, locomotives, telephone
equipment and even submarines. Battery cases for the U.S. Navy's first
nuclear sub, the Nautilus, were made at the Huntington plant.
The plant used 140,000 pounds of synthetic rubber every month, along with 20,000
pounds of crude rubber and 500,000 pounds of reclaimed rubber. Formed into
stacked sheets, rubber then was fed into powerful steam presses
that used dies to stamp out cases of the required size.
When they came off the assembly line here, the cases were shipped to one
or more of the nearly two dozen plants operated by National Battery Inc.
American Container was a wholly owned subsidiary of National Battery.
The Huntington plant employed 200 workers. It stood on a seven-acre site
along the Chesapeake & Ohio Railway's main line in Westmoreland.
There were also two large warehouses at West 16th Street and
Virginia Avenue for storage purposes.
According to records in the West Virginia Secretary of State's office,
American Container ceased operation in Huntington in 1961.
For a number of years, the former battery plant was occupied by Coyne Textile
Services. Today, it's home to Service Pump & Supply, an industrial products
company that works in the world of oil and gas, mining, industrial and
municipal water management. It sells pumps, motors and other supplies.
-----------------------------------------------------------
Note: This Article and picture appeared in the Herald-Dispatch Newspaper on Apr. 29, 2019.
-----------------------------------------------------------
[ Back ]