Amsbary's
------------------------------------------------------------------------------------------------------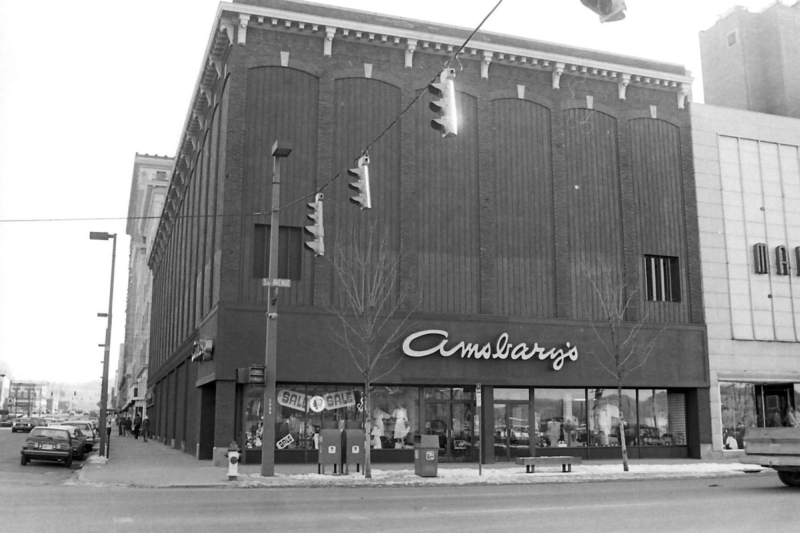 In 1978 Amsbary's moved to this historic building at 3rd. Ave. and 10th. Street.
------------------------------------------------------------------------------------------------------
HUNTINGTON -- The name Amsbary first emerged in Huntington's retail community in 1926
when Loren Amsbary - universally known as "Jake" - and H.L.
Johnson took over a men's haberdashery located in a small room off the lobby of the Hotel Frederick.
The business was something less than an overnight success. In the store's earliest years t
he two men ran it by themselves. "We couldn't afford any help," Amsbary recalled.
But over the years the business prospered and ultimately moved to a storefront location
at 321 10th St. Johnson retired in the early 1940s. Because of their long-time friendship,
Amsbary retained Johnson's name on the store, even after his death. Eventually,
the store would become simply Amsbary's. As it grew and more items were added
to the inventory, more space was needed, so two adjacent storerooms were leased.
By the 1970s, the store was again short on space, so in 1978 it left its long-time location and moved
half a block north to an historic three-story building on the corner of 3rd Avenue and 10th Street,
last occupied by a W.T. Grant store.
Jake Amsbary died in 1986 at age 84. His sons continued operating the store until it closed a few years later.
The corner building at 3rd Avenue and 10th Street that Amsbary's moved to was built in 1915 by early Huntington
merchant and civic leader Sam Gideon. It was designed by Edwin Alger, one of the city's
best-known architects of the day, in the then-popular Arts and Crafts style.
Later, in an attempt to make the building look more modern, its many original windows
were covered with giant wood panels.
When Dr. Joseph B. Touma, who's restored a number of downtown properties, purchased the building,
he removed the wood panels to return the structure's original appearance.
Today, re-named Town Center Plaza, it's home to multiple tenants.
-----------------------------------------------------------
Note: This Article and picture appeared in the Herald-Dispatch Newspaper on Apr. 20, 2015..
-----------------------------------------------------------
[ Back ]