Appalachian Craftsmen
------------------------------------------------------------------------------------------------------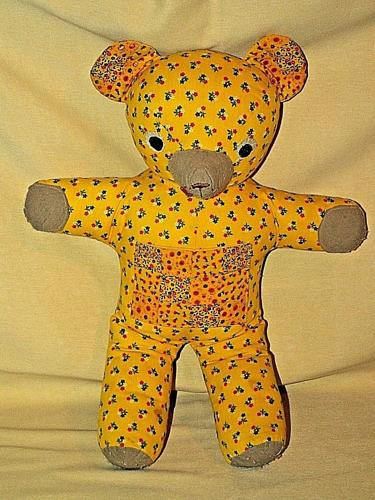 This cute stuffed bear was produced by Huntington-based Appalachian Craftsmen Inc.
------------------------------------------------------------------------------------------------------
HUNTINGTON — Appalachian Craftsmen Inc. was an economic
development project arising from the War on Poverty.
Chartered in 1971 by the Southwestern Community Action Council
and the Junior League of Huntington, it provided low-income
artisans a means to earn money by making clothing, home
decor and stuffed toys. Formed in Lincoln County, the
organization later expanded to include residents of
Cabell, Wayne and Mason counties. Quilters in
Upshur County were included when
Mountain Artisans, a local
sewing group, closed.
Huntington's Carter Taylor Seaton was very involved
in Appalachian Craftsmen. In an article she wrote
for "The West Virginia Encyclopedia," she
explained how the organization worked:
"Sewers who wanted to supplement their family income, but who
could not leave home to do so, were provided training, fabric
and designs and were paid on a piece-rate basis. Marketing
initially followed a sales-party strategy, with a national
network of women showing samples of the high-end
clothing, quilts, home decorator items and toys in
their homes. Orders were filled by the rural
artisans and shipped to the buyers.
Appalachian Craftsmen also sold
nationwide through holiday
shows, craft fairs and to gift
and clothing boutiques."
For 10 years, a Huntington shop located on the first
floor of the Emmons Apartments on 3rd Avenue
provided a local retail outlet.In 1979, a shop
opened at the Greenbrier resort and, in
1980, another shop followed at the
Homestead resort in Virginia.
Over the years, Appalachian Craftsmen returned almost
$500,000 to more than 250 rural women. In 1984,
sales sharply declined due to an influx of
foreign imports, and the organization
ultimately closed in 1988.
Note: This Article and picture appeared in the Herald-Dispatch Newspaper on May 16, 2023.
-----------------------------------------------------------
[ Back ]