Appalachian Life Insurance
------------------------------------------------------------------------------------------------------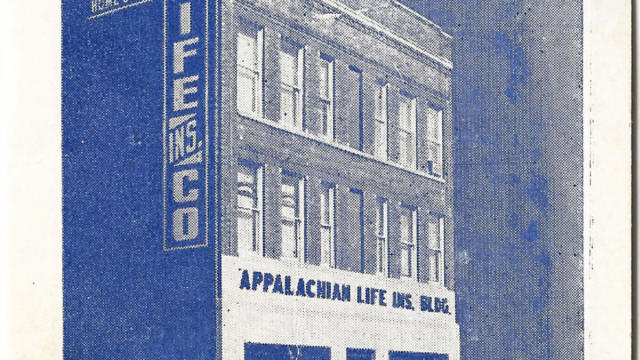 For many years. Huntington Appalachian Life was the only home owned
insurance company in West Virginia.
------------------------------------------------------------------------------------------------------
HUNTINGTON -- L.H. Smith was born in a log cabin in Jackson County, West Virginia.
His mother died when he was 6, and two years later his father died.
"I was an orphan boy," he said in a 1973 interview with the Huntington Advertiser.
"But being an orphan taught me a lesson. The fact that I had it tough has made me a good giver.
The Lord has blessed me with a good life, so I try to be good to people.
I'm grateful for the people who have helped me."
Smith was raised by an aunt after his parents died. His first job was in the Hocking Valley Railroad
yard in Columbus. He then taught school at Raymond City in Putnam County. Leaving the
teaching profession, he decided he would try his hand at selling insurance.
He proved to have a knack for it. He located first in Charleston,
and later moved to Huntington.
In 1948, after 14 years with the Peoples Life Insurance Co., Smith established his own company,
Appalachian Life Insurance, selling stock in the firm to 400 local investors
and building a three-story headquarters building at 1124 4th Ave.
Smith held memberships in the Masonic order, the Lions Club and the Chamber of Commerce
and was a longtime board member with the John W. Hereford Boys Clubs. On his death
in 1977, he was succeeded as Appalachian Life's president and CEO by Jack L. Miller.
For many years Appalachian Life was the only home-owned insurance company in West Virginia,
but in 1986 it was purchased by Commonwealth Industries Corp, a Springfield, Illinois, firm.
Records in the West Virginia Secretary of State's office indicate the firm was voluntarily
dissolved in 2005. Subsequently, its 4th Avenue building was demolished.
Its former site is now a vacant lot.
-----------------------------------------------------------
Note: This Article and picture appeared in the Herald-Dispatch Newspaper on Sep. 11, 2016
-----------------------------------------------------------
[ Back ]