Arena Gardens
------------------------------------------------------------------------------------------------------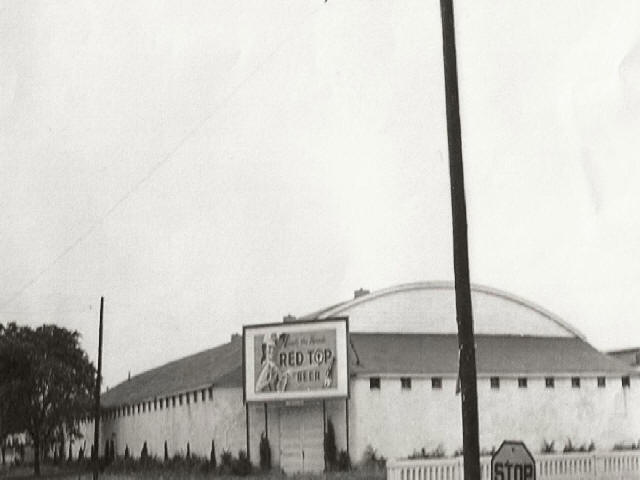 Built in 1938, Arena Gardens was located at 7th Avenue and
1st Street. It was destroyed in a spectacular fire in 1945.
------------------------------------------------------------------------------------------------------
HUNTINGTON — Located at 7th Avenue and 1st Street, Arena Gardens was
the city's "civic center" of its day. It served as a venue for ice skating,
hockey, roller skating, small circuses and other traveling shows.
Of steel and wood construction, the structure was built in 1938 and for
its first few years was used only for ice skating. In 1940, it was the
home court for an ice hockey match between the Huntington
Stars and a Penn State University team.
Arena Gardens was operated by colorful local promoter Dick Deutsch,
who also ran Radio Center, the former Vanity Fair arena in the 600
block of 4th Avenue. (Today, the old building houses efficiency
apartments for low-income residents, operated by the
Cabell-Huntington Coalition for the Homeless.)
Until Veterans Memorial Field House was built in 1950, Marshall
College (now University) played its home basketball games at
Radio Center. But when Radio Center was otherwise
booked, Marshall played at Arena Gardens.
Shortly before midnight on April 7, 1945, Arena Gardens was destroyed
in a spectacular fire that claimed the life of a Huntington firefighter,
Lt. Jess Hensley. Three other firefighters narrowly escaped with
their lives as the roof of the burning building collapsed.
Six fire companies fought the fire, but after 30 minutes firefighters
realized there was no hope of saving the structure and so confined
their efforts to saving nearby buildings, which the fierce heat
threatened to ignite. Fire Chief Brooks McClure told the
Huntington Advertiser there was nothing to indicate
how or precisely where the fire started, and there
would be no chance of discovering
those facts from the ruins.
Arena Gardens was owned by F.C. Sammons and Pearl
Rardin. Deutsch estimated the loss of the building at
"about $100,000," most of which was
covered by insurance.
-----------------------------------------------------------
Note: This Article and picture appeared in the Herald-Dispatch Newspaper on Mar. 03, 2020.
-----------------------------------------------------------
[ Back ]