Arthur Treacher's
------------------------------------------------------------------------------------------------------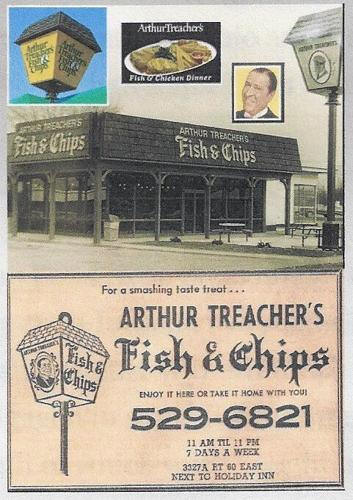 In the 1970s, an Arthur Treacher's restaurant operated
on U.S. 60, next to Harold Frankel's Holiday Inn.

Courtesy of David Smith
------------------------------------------------------------------------------------------------------
HUNTINGTON — There used to be more than 800 Arthur Treacher's
fish and chips restaurants, including one in Huntington.
Today, there's only one left.
The restaurant chain got its start in Columbus, Ohio, in 1969.
It was named for Arthur Treacher (1894-1975), an
English character actor typecast as "the perfect
butler" for his performances as a butler in
several Shirley Temple films and as
Constable Jones in Walt Disney's
"Mary Poppins."
At the time the chain was launched, Treacher was perhaps
best known as the announcer and sidekick on Merv Griffin's
popular television show. When interviewed, Treacher
refused to comment on whether he had a financial
involvement in the restaurants. Regardless, he
served as a spokesman for the chain in its
early years, underscoring the British character
of its food. He would sometimes visit the
restaurants in a red double-decker
bus like those used in London.
In a 1975 interview, New England franchise vice president
M. John Elliott claimed the fish recipe to be the actor's
own, brought over from the United Kingdom,
although that seems dubious.
The chain changed corporate hands a half dozen times
and soon was financially struggling. Locations began
closing one by one, and ultimately the company
was forced to declare bankruptcy.
Today, the only remaining Arthur Treacher's restaurant is
located in Cuyahoga Falls, Ohio. Owner Ben Vittoria
says it's survived because its customers value "the
taste of a unique product and memories of
happier and less complicated times."
-----------------------------------------------------------
Note: This Article and picture appeared in the Herald-Dispatch Newspaper on Aug. 16, 2022..
-----------------------------------------------------------
[ Back ]