Automobile Row
------------------------------------------------------------------------------------------------------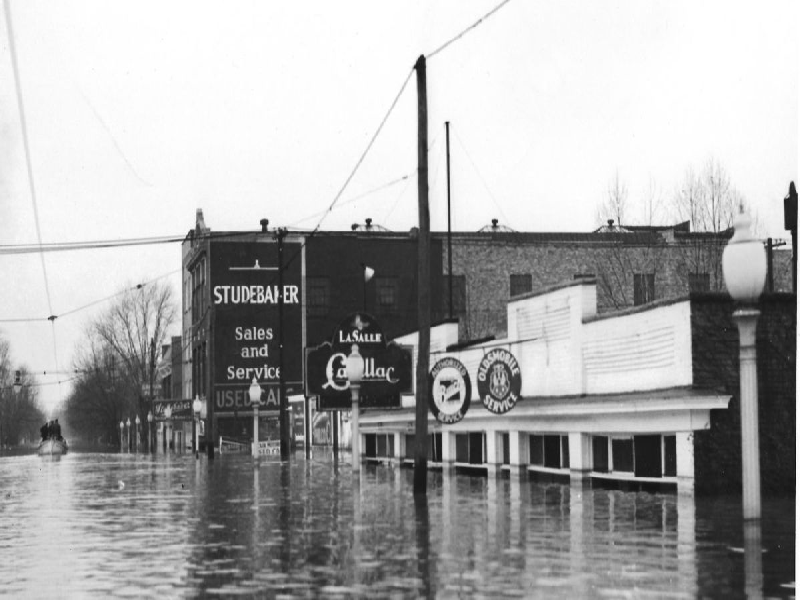 The 1937 flood inundated Huntington's "Automobile Row".
------------------------------------------------------------------------------------------------------
HUNTINGTON -- For decades, from roughly the 1920s to the 1960s, local folks shopping for a new car knew exactly
where to go - a stretch of downtown 4th Avenue between 4th Street and 7th Street. Often referred
to as "Automobile Row," the three-block stretch of street was home to a dozen or so automobile dealers.
The dealerships offered a wide array of brands, some of which have long since disappeared
into automotive history. Here's a look at just a few of them:
At 347 4th Ave., Blair Motors Inc. sold Packards. The first Packard was produced in 1899,
and the last one in 1958. "Ask the man who owns one" was a familiar Packard slogan.
Huntington Motor Co. at 440 4th Ave., sold Studebakers and, in later years, other brands. In the next block,
the Thackston dealership sold a quartet of General Motors cars - Cadillac, Oldsmobile, Buick and LaSalle.
GM retired the LaSalle brand in 1940 and built the last Olds much more recently, in 2004. The photograph
with this article shows Huntington Motors and the Thackston dealership
inundated by the high water of the 1937 flood.
In the 600 block of 4th Avenue, you could buy a Chevy from Rich Chevrolet,
a Lincoln or Mercury from Galligher Motor Sales or a Dodge from Max Biederman.
Bruce Perry Motor Co. at 4th Avenue and 7th Street sold several now-vanished brands - Auburns, Cords,
Plymouths, DeSotos and even an occasional Duesenberg, a luxury car that was the most expensive of its day.
Over the years, the auto dealers exited the downtown one by one, seeking big lots where they could display acres of cars.
By the 1990s, Bill Spurlock Dodge at 4th Avenue and 4th Street was the only new car dealer remaining downtown.
Then, in 2009, Chrysler cut its ties with scores of dealers nationwide, including Bill Spurlock Dodge. Veteran auto
dealer Spurlock soldiered on, selling used cars and running a service garage.
But Automobile Row was part of "Lost Huntington."
-----------------------------------------------------------
Note: This Article and picture appeared in the Herald-Dispatch Newspaper on Sep. 14 , 2015
and the picture for the article in the paper was the courtesy of U.S. Army Corps of Engineers.
-----------------------------------------------------------
[ Back ]