B&B Food Market
------------------------------------------------------------------------------------------------------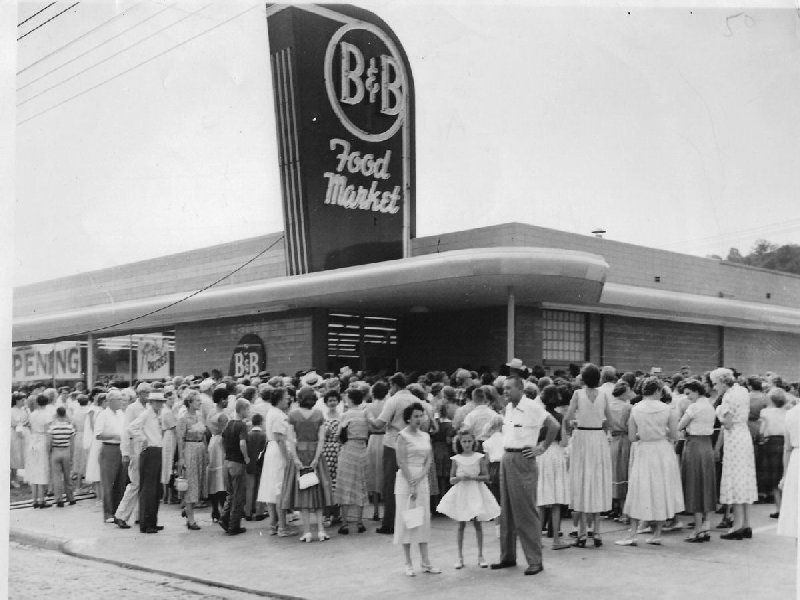 In an undated photo, customers wait for the doors to open after a remodeling at
B&B Food Market. Over the years owner John Beckwith regulary
remodeled and expanded his store.
------------------------------------------------------------------------------------------------------
HUNTINGTON -- John Beckwith (1909-1998) started in the food business on July 1, 1939,
when he invested $500 to open a small open-air produce stand at 2651 5th Ave.
In 1946, at the same 5th Avenue site, Beckwith built the area's first supermarket.
Lured by a combination of low prices and personal service, customers flocked
to his B&B Food Market. Over the years, it would be continuously remodeled
and expanded and become the region's largest independent food retailer.
When Beckwith opened his 1939 produce stand, he had two employees to help
him with his fledgling venture. Ultimately, his supermarket had more than 130 employees.
Beckwith was his own best salesman, often greeting customers by name and welcoming them to the store.
His ads were a familiar fixture in the Huntington newspapers. Each year, as Thanksgiving time neared,
a big B&B ad would include a huge picture of Beckwith standing amid a flock of turkeys.
"Big John's In the Turkey Patch!" the ad proclaimed.
Inspired by a family tragedy - he lost his daughter Sue to cancer - Beckwith began an annual Cancer Day sale
which saw him contribute 5 percent of his store's sales that day to the Cabell-Wayne unit of the American
Cancer Society. He then convinced other local food stores to join with B&B in the Cancer Day sale
and eventually recruited a lengthy list of Tri-State retailers as participants. Citing his
establishment of Cancer Day, the National Retail Grocers Association in
1978 honored Beckwith as its National Retail Grocer of the Year.
Squeezed by growing competition from the chain supermarkets, B&B Food Market closed its
doors in 1987. A Cub Foods discount store later opened at the site but proved to be
short-lived. Today, a Kroger supermarket stands where the
B&B Food Market once welcomed Huntington shoppers.
-----------------------------------------------------------
Note: This Article and picture appeared in the Herald-Dispatch Newspaper on Feb. 16 , 2015
-----------------------------------------------------------
[ Back ]