Bailey's Cafeteria
------------------------------------------------------------------------------------------------------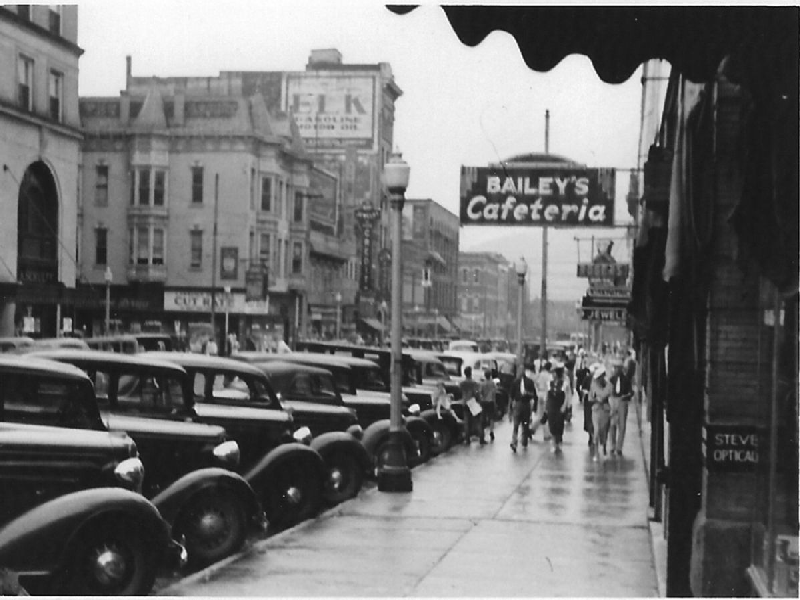 It's a damp day in downtown Huntington sometime in the 1930's, but a bit of rain
can't keep away the faithful lunch time customers at Bailey's Cafeteria.
------------------------------------------------------------------------------------------------------
HUNTINGTON -- Floyd Walker's aunt and uncle, Morris and Sadie Bailey, were the Baileys of Bailey's Cafeteria
when it opened in 1934. Although they surely had high hopes for their fledgling restaurant,
it's unlikely they realized they were founding a Huntington institution.
Not long after it opened for business in the basement of the Fifth Avenue Hotel,
Bailey's moved to a new location on the east side of the 400 block of 9th Street.
The move came just in time for the cafeteria to be visited by the record-setting 1937 Ohio River flood.
Undiscouraged, the Baileys cleaned up the muddy mess left behind by the receding floodwaters
and re-opened. The cafeteria would go on to be a fixture on 9th Street for more than 60 years.
When Morris and Sadie Bailey died, their son, George W. Bailey, took over the business.
Floyd Walker joined him as a partner and became sole owner when Bailey died in 1966.
Barry Smith, who started his restaurant career washing dishes at Bailey's
as a high school student, bought the business from Walker in 1990.
At the height of its popularity, Bailey's had a clientele so loyal that some people ate there nearly every day,
patiently waiting their turn in the food line, making their selections, then following a uniformed waitress
as she carried their tray to a table, unloaded it and poured them a glass of water from
one of the colorful Blenko bottles placed on each table.
Many customers had regular tables they shared with friends and colleagues as they enjoyed a menu
that varied little over the years. Fried chicken, stuffed pork chops, country steak and gravy and,
of course, the mouth-watering homemade pies were customer favorites.
But each year saw the cafeteria's loyal customers getting older and fewer.
Despite its best efforts, Bailey's seemed unable to attract younger customers.
That fact, combined with a general decline in downtown business,
combined to force it to close in the late 1990s.
-----------------------------------------------------------
Note: This Article and picture appeared in the Herald-Dispatch Newspaper on May 04 , 2015
-----------------------------------------------------------
[ Back ]