Barboursville Brickyard
------------------------------------------------------------------------------------------------------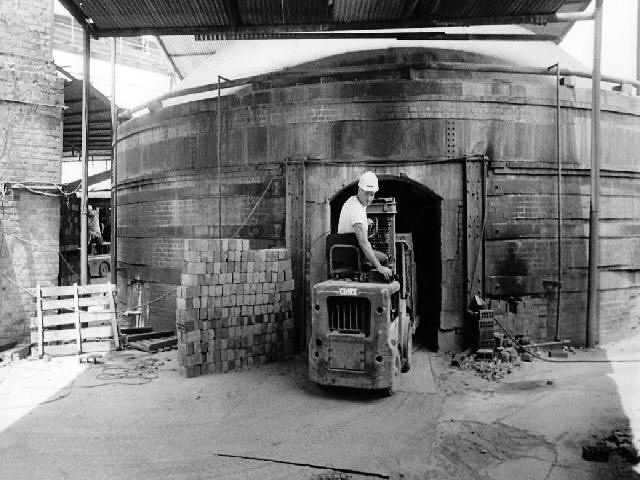 Founded in 1904, the Barboursville Brickyard manufactured
bricks for 75 years. It closed in 1979.
------------------------------------------------------------------------------------------------------
In her "The Lost Village of Barboursville," historian Jeanette M. Rowsey writes
that "even before the Civil War small brick-making plants had lined the
Guyandotte River." An abundance of natural gas to heat the furnaces
and thick layers of clay between the local topsoil and the bedrock
"provided for a very good grade of red building brick."
Many of the stately homes erected in Barboursville's earliest
years were built from locally produced brick.
In 1904, Barboursville businessman George Thornburg opened a large
modern brick factory on the village's Peyton Street. Thornburg's
brickyard was named either the Guyan Valley Brick Company
or the Barboursville Brick Company (sources differ). It
produced 75 types and colors of brick and tile from
a thick deposit of gray sandy shale
and sandy river clay.
Thornburg's brickyard proved a prosperous venture and even gained
a bit of notoriety when, in 1921, it was chosen to supply tile
for a major remodeling project at the White House.
Later in the 1920s, Claude Wiseman purchased the brickyard, and
his family would continue to operate it for more than 50 years.
Wiseman changed the company's name to the Barboursville
Clay Manufacturing Company. (No matter what the
company's official name, over the years most
people in Barboursville simply
called it "the Brickyard.")
By the 1970s, the company employed more than 50 people and
sold more than 20 million bricks per year. It closed in 1979.
In 2003, the city of Barboursville paid $1.5 million to
acquire the 20-acre property. A 2004 environmental
study found asbestos and petroleum in the ground
at the long-closed plant and high levels of
arsenic in its smokestacks. A cleanup
was performed and in 2007 the
storied brickyard was
demolished.
-----------------------------------------------------------
Note: This Article and picture appeared in the Herald-Dispatch Newspaper on Jan. 19, 2021.
-----------------------------------------------------------
[ Back ]