Barboursville Junior High
------------------------------------------------------------------------------------------------------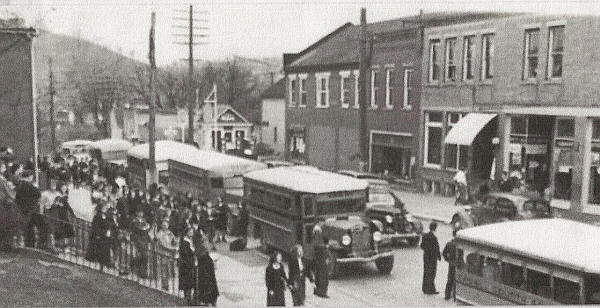 In a photo taken some time during the 1936-37 school year, students and
townspeople can be seen exiting Barboursville Junior High School.
File photo | The Herald-Dispatch
------------------------------------------------------------------------------------------------------
BARBOURSVILLE — In 1996, a wrecking crew made quick work of
demolishing the former Barboursville Junior High School, at one time
the oldest active school building in the state of West Virginia.
The building was by no means new when it became home to Barboursville Junior High.
It was built in 1850 as the second of two Cabell County Courthouses to be located
in Barboursville. In 1887, Cabell County voters approved a measure moving the
county seat to Huntington, the growing town founded by railroad tycoon
Collis P. Huntington. The former Barboursville Courthouse
then became home to a Methodist seminary.
The seminary struggled financially until Fayetteville coal operator Morris Harvey
paid off the school's debt. In appreciation, the institution changed its name
to Morris Harvey College. In 1935, the college relocated from
Barboursville to Charleston. By this time, Morris Harvey
had a number of buildings. Those on the upper end of
the campus became a state hospital and, decades
later, the state's only veterans home.
Buildings on the lower end of the campus became the property of
the Cabell County Board of Education, with the college's former
administration building used to house Barboursville Junior High.
In 1943, a disastrous fire gutted the old building leaving
only the thick walls standing. That part of the school
had to be rebuilt. Additions enlarging the old
school were constructed in 1948 and 1960.
For years, school officials talked about the need to replace
the crumbling, overcrowded building. The old school was
finally closed in 1994, with students from three junior
highs, including Barboursville, moved into the
former Barboursville High School,
where a 10-room addition
was constructed.
The former Barboursville Junior High sat vacant for two years
while its fate was debated. Ultimately the Barboursville City
Council unanimously voted to demolish it.
-----------------------------------------------------------
Note: This Article and picture appeared in the Herald-Dispatch Newspaper on Nov. 15, 2022..
-----------------------------------------------------------
[ Back ]