Barnett Child Care
------------------------------------------------------------------------------------------------------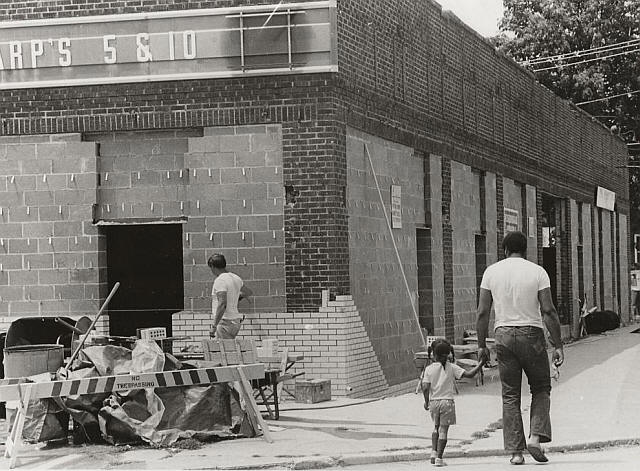 In 1977, the Barnett Center got a badly needed new home when
the city of Huntington purchased and remodeled a former
Sharp's Variety Store and turned it over to the center.
File photo | The Herald-Dispatch
------------------------------------------------------------------------------------------------------
The former Barnett Child Care Center at Hal Greer Boulevard and 10th Avenue
has been demolished, bringing an end to a story that began in the early
1930s when President Franklin Roosevelt's "New Deal" legislation
made federal funding available to provide pre-school day care
for the children of mothers who worked or took school classes.
That federal funding made possible the founding of the Barnett Center, named
for an African-American preacher, the Rev. Nelson Barnett, who in the
early 1870s walked from Buckingham County, Virginia, to the young
community of Huntington. Arriving, he found a bustling town that
obviously needed workers. He went back to Virginia and
returned with a wagonload of men, ready to work.
Over the decades, the Barnett Center provided quality day care for
literally thousands of young children. It started out serving six
children on a neighborhood playground. Its first indoor home
was the Radford and Wilson Building on 8th Avenue.
It then moved to an Artisan Avenue structure.
In 1891, Huntington constructed a school for African Americans,
naming it Douglass High School in honor of the abolitionist
leader Frederick Douglass. In 1926, when a new building
was built for the high school, Barnett Elementary was
moved to the old building. In 1970, when the Cabell
County Board of Education closed Barnett Elementary,
the Barnett Center was given permission to use the
former school. But the building was
old and clearly inadequate.
In 1977, the Barnett Center got a badly needed new home when the
city of Huntington used Community Development Block Grant
funding to purchase and remodel a former Sharp's
Variety Store and turn it over to the center.
Over the years, the center had a series of financial ups and downs.
But it hit rock bottom in 2008 when the center's board closed it,
saying it no longer had the funds needed to continue operating it.
-----------------------------------------------------------
Note: This Article and picture appeared in the Herald-Dispatch Newspaper on June 13, 2023.
-----------------------------------------------------------
[ Back ]